How to Batch Watermark PDF Files In Few Clicks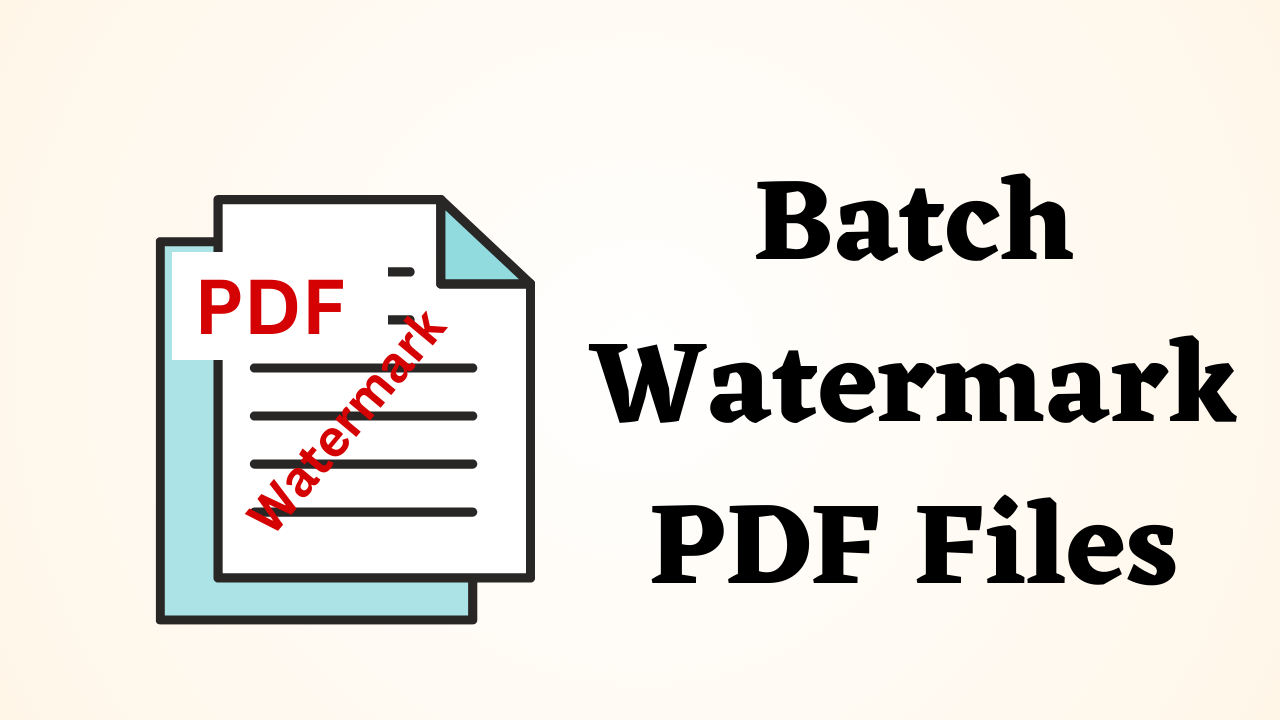 In Summary: Today, watermarking PDF files is a common practice for a variety of reasons, including adding branding, protecting copyrights, or indicating privacy. When dealing with a large number of PDF files, watermarking each one manually can be time-consuming and tedious. So today in this blog post, we will guide you through the process of batch Watermark PDF files, thereby saving you valuable time and effort. so let's start.
Exploring the Table of Contents
First, let's take a look at a user query. Then after that, we will move to the solution part. so let's see.
"User Query: Hello, my name is John, and I am searching the process to apply different watermarks and print a large number of pdf files. My main .pdf file processing program is Adobe Acrobat Pro XI. Acrobat has an "Action" function that can be used for batch processing including watermarking, but there is no way to pre-specify individual watermarks for each file with this function. Acrobat supports Javascript, but I don't know how to use it. In short, I need to add a watermark to my folder's PDFs to quickly send them to the team. Please suggest me a quick and reliable solution to batch watermark PDF files."
Come, after seeing the user query, let us know about those who have now watermarked. Then, after this, we will read about why it is important. so let's start to know.
What is a Watermark?
A watermark is a small text or image combined with the main content of the document. The image or text is often overlaid with a transparency effect to soften it. Working with transparency, you can put a watermark in the foreground. With low transparency, it seems that the contents of the document pass through a watermark. Visually, this is similar to the effect that is created when the watermark is in the background.
Benefits of Using Watermark in a PDF File
There are many advantages of adding watermarks to PDF files. some of which we have explained in more detail below:
Branding and Identity: Using watermarks, you can add your business name, logo, or slogan to PDF files to establish and enhance your brand identity. You can advertise your brand and make your files instantly recognizable and distinctive by adding a clear watermark to your papers.
Copyright Protection: The watermark acts as a barrier against the use or dissemination of your PDF files by unauthorized parties. You can declare your ownership and prevent others from infringing your intellectual property rights by including copyrighted information, such as your name, website, or copyright symbol.
Document Integrity: Watermarks give your PDF files an extra level of security and validity. You can ensure that any changes or adjustments to a document are obvious by including a visible watermark. This helps protect against unauthorized change or tampering and maintains the integrity of your work.
Tracking and Tracing of Documents: Watermarks can be personalized with unique identifiers, including serial numbers or user-specific data. It enables you to track and identify the location of the creation or dissemination of your PDF files. You can track down the leaker and take appropriate action if a watermarked document is distributed without permission.
Till now, we have read all the things like user queries, watermarks are done, and the benefits of using them. So now it's time to go through all the solutions to add them to PDF. So in the below section, we have given the best stepwise solution. Let's use them.
Important Note: If you are looking for a manual solution to add a watermark to multiple pdf files, then there is only one solution for this, that is, you will have to buy a subscription to PDF Adobe Reader, through which you can complete this manually. Is. But you will have to face many of its flaws, so to avoid all these things, we have given below a very good solution for you. Let's use that to complete the process.
Batch Watermark PDF Files – Automated Solution
PDF Watermark Tool is software to attach batch watermark in PDF files. You have the option to add text or images as Watermark on your PDF Files. Also, you can add any text and customize it accordingly. You can add any image type to the software like if you have .jpg, .png, or .gif format, you can add it to the software. The software unlocks the secured PDFs before adding any image or text watermark to them.
Steps to Add Batch Watermark to a PDF file
First of all download and run this software on your computer.
Then after that add a PDF file in the software panel through add file and add folder.
After this select Watermark type as "Text", "Image" or "Date & Time".

First, If you select the Text Watermark, then the software will give you the interface by opening it, which you can adjust according to your own by writing the text.
Second, if you select the Image Watermark, then the software will open the interface in which you can select any image from your system from the browse option which you want to use as a watermark.
Third, if you select the Date & Time watermark, then the software will open the interface in which you can adjust the date and time according to your own preferences.

Now finally click on the option of Ganarate to batch watermark PDF files.
Why Users Use a Smart Solution
Because, it is there for you to customize the font family, font style, font color, and font size of any text you add.
Plus it supports watermarking on the following image types: JPEG, PNG, GIF, JFIF, and BMP
Allows you to add a date or time stamp in 18 different formats as a watermark.
Using the horizontal and vertical distance values provided, you can position the watermark wherever you want.
In the resulting PDF files, the utility provides an option to either leave or remove the protection.
Conclusion
Lots of users face trouble in add watermark to multiple pdf files. This blog discusses quick and reliable solutions to Batch Watermark PDF Files whether it is a text or an image. So you can easily add watermarks to PDF by your need using smart solution.