How to Split Outlook PST File by Year – Reliable Way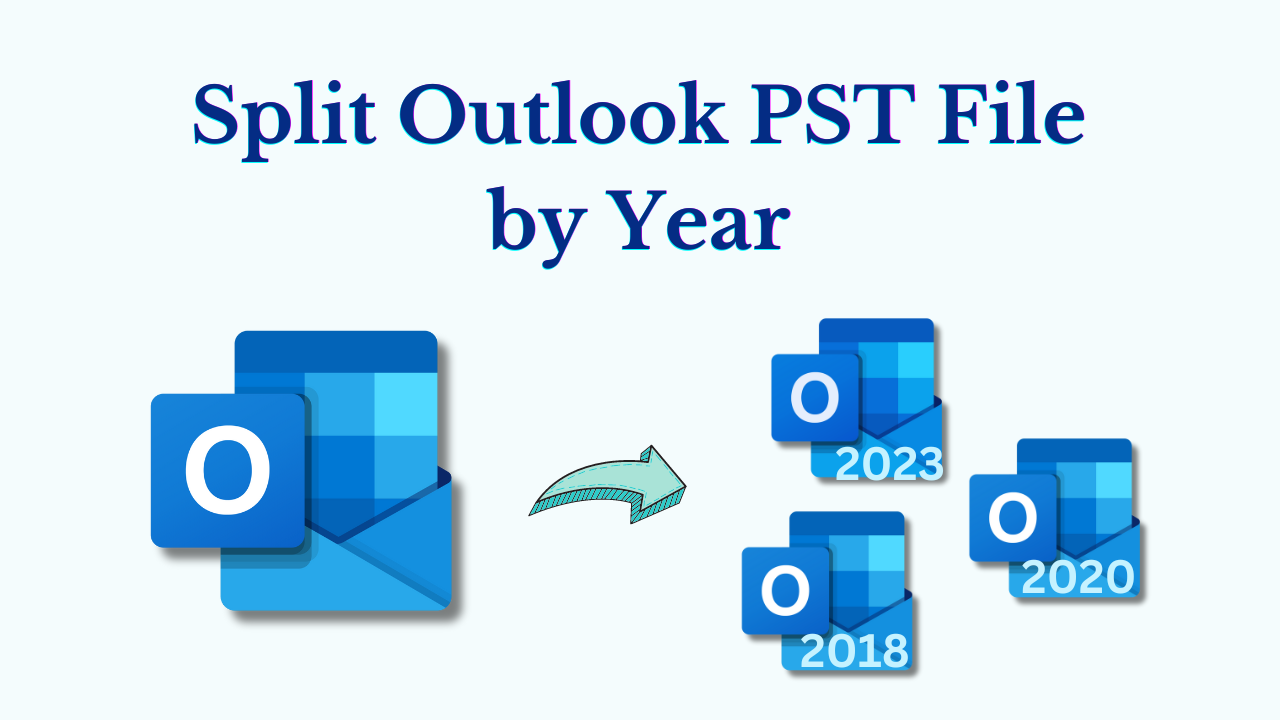 Short Overview: Email has become an important component of both our personal and professional lives in the digital age. Managing your Outlook mailbox effectively is important because there is a constant stream of messages, attachments, and other data. Partitioning PST (Personal Storage Table) files by year is a useful technique for customizing your Outlook experience. You can effectively organize and optimize your email data by using the instructions in this blog post to split Outlook PST file by year.
Table of Content – Easy to Read
Before we dive into the details of splitting PST files, let's understand what a PST file is and why users want to split PST files by year.
What is a PST File?
PST (Personal Storage Table) which is a file format. It is supported by Microsoft Outlook which is a widely used email client. It is used to store email messages, contacts, calendar entries, tasks, and other Outlook data. Similarly, when our mailbox data keeps on increasing with time, then the size of the PST file keeps on increasing. Therefore performance is slow and there is a potential data corruption risk.
Let us know the reasons. So, in the below section, we explain all the possible motives.
Reasons to Split Outlook PST File by Year :
Faster access to Outlook data with better search capabilities, and with lower latency is made possible by smaller PST files.
You can quickly find and manage emails from a particular period by organizing emails into different folders based on year.
Smaller PST files reduce the chances of corruption, ensuring that even if one file gets affected, the rest remain unaffected.
Splitting PST Files simplifies data backup and migration processes as you can manage smaller files more easily.
After knowing all the important things from this part now it is time to know all the possible solutions. With the help of this, we will be able to divide the PST file year-wise.
So as here from the beginning, there are two types of solutions: the first is the manual method and the second is the automated method. This solution is useful in every process, whether we are doing data split, merge, recover, repair, convert, etc., so let's start with the first solution.
Split PST File by Year – Human Approach
Using this methodology, the user can easily divide the PST file by year. To start this process, first of all, you have to install Outlook on your computer and configure the user ID in it. So, let's start now.
The Open Archive dialog box appears first.
Choose File >> Archive in Outlook 2007 and the MS Outlook versions listed below.
Select the file in Outlook 2010 or 2013 to split PST files. Select File, Info, and Clean-up. Archive under Tools.
To disassemble Outlook 2016 or 2019 archive emails select File >> Info >> Tools >> Mailbox Cleanup to split Outlook PST file by Year.
Choose Archive this folder and all subfolders from the Archive interface menu, then select the desired folder from the list.
To back up items from AutoArchive, enter a date in the box labeled Archive old items from the drop-down menu and select Include items with "Don't AutoArchive" checked.
By selecting the Browse tab, enter the name and location of the archive file.
Finish the backup by clicking on the OK button.
All manual methods end here. But, there are a lot of limitations to this method. So, below we are going to explain some drawbacks.
Limitations of Manual Steps
The manual method has significant drawbacks, even though it can effectively separate PST files by year:
The manual approach is challenging and time-consuming.
Data loss is a constant threat with a manual approach.
There is no guarantee that the splitting of PST files will be successful every year.
The fact that this method requires some technical knowledge can make it challenging for non-technical individuals to employ.
Now if you want to overcome all these limits, then try the solution given below.
Split Outlook PST File by Year – Smart Techniques
You can use this Revove PST Splitter Tool to divide all the PST data files by Year. Users of this application have access to a variety of options that make it easy to split a file by year. The software guarantees no data loss while you work on individual files. It removes all the problems that used to be there in a manual way. Furthermore, the utility offers a wide range of features that can handle all the issues in one go.
Step-by-Step Guide to Split Outlook PST Data by Year
Firstly, download and install the tool on the system to start the splitting process.
Then, select the "Add File" and "Add Folder(S)" options.
Now, pick the "Split" option (Split by Year, Size, Email Id, Folder, and Category) and then give the needed information.
After that, review the "Split Information Summary" and click "Continue" to move forward.
Finally, the software will start the splitting process.
Why Users Use This Tool – Benefits
Allow splitting Outlook archive or active PST file.
With the CSV option, you can easily split a PST file into separate data ranges without violating the file size restriction.
Support of ANSI and Unicode PST files from all Microsoft Outlook versions
Ability to create a single PST file for all users or one file per folder.
Gives the freedom to divide Outlook PST file into smaller parts.
Time to Wind-Up
We have described a simple way to split Outlook PST file by year in this technical blog. This method allows for efficient search, and easy backup and simplifies data migration. You can effectively manage and organize your email data, improve performance, and reduce the risk of corruption.
Frequently Asked Questions
Q 1: What Should I Do If My PST File Has Become Too Large?
Ans: Don't worry if your PST file exceeds the limit; We have included both manual and automated solutions here. Automatic solution is the simplest function; Manual solution is very difficult.
Q 2: Will a Large PST File Cause Outlook to Lag?
Ans: Yes, Outlook gets slow due to large PST files which also leads to corruption problems. To free up Outlook capacity, splitting huge PST files will become a major issue for users.