How to Restore Windows Backup File? – Complete Solution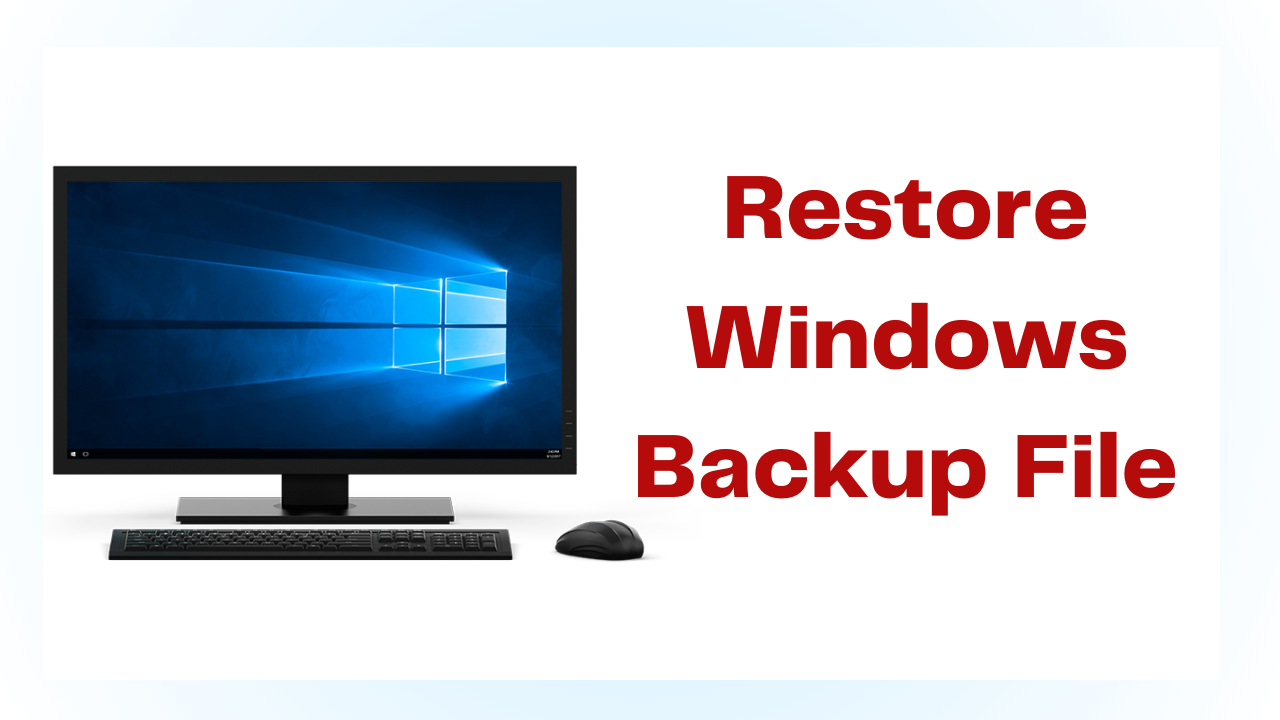 In Abstract: Data backup is one of the most important strategies for overcoming any dangerous situation that may lead to data corruption or loss. The NT series of versions of Windows such as Windows XP include the NTBackup application with satisfactory results. This utility backs up all the data files into a single BKF file, which can be easily restored using the same application. In this article, we will reveal two techniques to restore Windows Backup file. While using backup files many users face problems like corrupted Windows Backup BKF files and unrecoverable Windows BKF files etc. So, let's consider all the problems and come up with a free manual and an alternate approach to recover a corrupted BKF file without losing data.
Before knowing the solution. First, let us know the reasons why users want to restore files from backup Windows 10. So, below we are going to mention all the possible causes. 
Reasons to Restore Windows Backup File
There are many reasons available. So, below we describe some motives:
You may face Windows 10 backup error due to any virus or malware attack, or also due to file history Windows 10 not working issue.
Because of this persistent problem, the backup could not be completed. A poor network connection can be the primary reason for an incomplete backup process, although file corruption can also play a role.
The File History drive being disconnected could be to blame. You may get this backup problem if you have disconnected drive-in settings.
Windows 10 can also generate this error if File History does not recognize the device. Once again, faulty connections or drive corruption may be to blame.
The backup process may not have successfully backed up every file because of file corruption or file format issues. To fix this, you can try deleting the file or folder from the list and adding it again.
So, after knowing all the important things. Now, it's time to know the solutions. restore files from backup Windows 10. So, in the coming part, we are going to explain all the top approaches for this task. let us start. 
How to Restore Windows Backup File – Restore BKF File

Here, in this segment, we will mention the step-by-step procedure to restore a Windows BKF file. You just have to follow all the instructions to carry out the process correctly. Let's start:
First, double-click on the NTbackup.exe file.
At this point, a new wizard called "Welcome to Backup or Restore" will appear on the screen. Click the [Next] button.
Select the Restore files and settings option. Then click the [Next] button.
Click the Browse button, select the preferred BKF file you want to restore, and click the OK button.
Then you need to expand the left panel and select the desired file/folder. Then click the Next button.
To move further, press the Advanced Option.
Now, in the Restore File drop-down menu, you need to select another location and specify the destination path. Then click Next to continue
Finally, click on the Finish button to finish the steps to free and restore the Windows backup file.
The above manual solution for restoring Windows BKF files does not provide the expected results. The free method has some limitations that affect the complete procedure. In this situation, it is recommended to choose an alternative method to recover Windows backup data files. Therefore, we will discuss the same in the next segment. "
Automatic Solution to Restore Windows Backup File
Many users are performing the free manual method to restore a Windows backup bkf file. But, the free solution has some limitations that do not allow us to restore backup files. This can be possible due to Windows BKF files getting corrupted. Do not panic! You can use the Windows BKF Recovery Tool to resolve the issue to repair a corrupt Windows BKF file.  However, the software has come up with a self-explanatory interface. It becomes easy for non-technical users to use without the help of an expert. Users can install and run this tool on any version of Windows. The tool to repair and restore & repair BKF files widely supports all versions of Windows OS.
Step-by-Step Guide to Using this Tool
First, download and run the tool on your system to start the recovery process.
Then, hit on the "Open" button and "Browse" the BKF file.
After that, choose the "Scan Mode: Quick Scan, Advance Scan & Range Based Scan".
Now, check the "Preview, Extract, or Export" options.
Finally, hit on the "Extract" button to end this process.
Why Choose Windows Backup Tool?
There are no file size limitations in the tool.
Supports Windows NTBackup and Symantec VERITAS Backup Exec (.bkf) files.
It offers three recovery modes: quick, advanced, and interval-based scans.
Save the restore immediately and save time to rescan via the load option.
Compatible with all versions of Windows OS 10, 8, 7, etc
Retrieve data from BKF backup data files including email, pictures, documents, audio, video, and more.
Conclusion 
Backup is very important, in case of accidental deletion or corruption, we can easily repair and restore Windows Backup files. In this blog, we have discussed simple manual tricks on how users can restore files from backup Windows 10. Along with this, we have also mentioned the best solution to restore a Windows backup File with professional software.
Frequently Asked Questions:
Q 1: Why is It Necessary to Recover Files From a Backup?
Ans: To help a company recover from an unexpected disaster, backup copies make it possible to restore data to a previous point in time. To prevent primary data loss or corruption, it is necessary to save a copy of the data on a separate medium.
Q 2: Is it Possible to Restore My Data to a Different Location, on the Same Computer?
Ans: Yes. However, if you want to move your data to a new location then you will have to use the selected file restore option. When you select this option you can restore either to the original location or to the destination you specify.