Lotus Notes to Office 365 Migration Tool – Revove
Lotus Notes to Office 365 migration means a whole set of never-before experiences for the employees of an organization. It is not only migration of files and database, but also a transformation in mindset and coming challenges. If your organization is planning to migrate from IBM Notes to O365, you must have numerous questions circling in your mind. One of them should be, how to prepare for Lotus Notes to office 365 migration.
There are a lot of things that need to be taken care of during such enterprise level migration. Here we will be talking about some of the crucial points that require special attention if your organization is going to switch from Lotus Notes to Microsoft 365.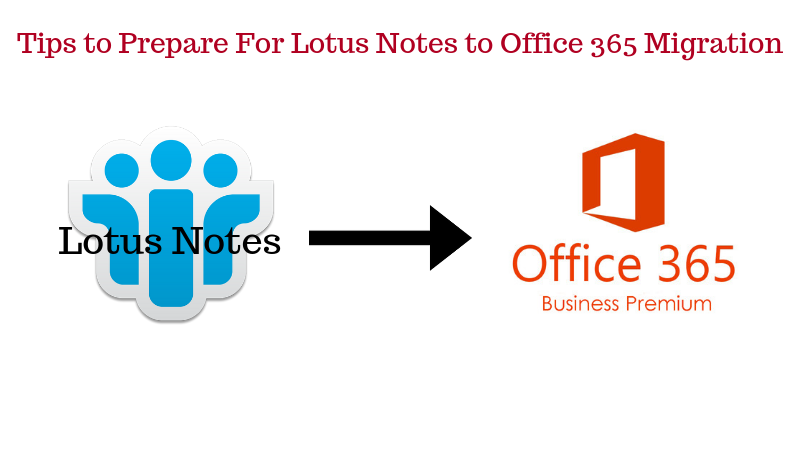 Proper Configuration & Management of Active Directory Services
Though most of the organizations neglect this service with Lotus Notes, Active Directory is an important entity for Office 365 services, specially for Exchange Online. However, a proper active directory review is highly recommended by the experts before moving to Office 365. Also, check on these matters while you are preparing for migration.
Error-Free Active Directory – You need to make sure that the Active Directory environment is completely free of errors. Replication errors, turned off domain controllers that have not been removed, objects of old active directory, poor DNS structures, slow data links, obsolete domain controllers are some of the things that should be taken care of.
Accurate AD Metadata – Active Directory should have the accurate and up-to-date users information. For that, you have to move the correct data of employee title, contact information, location, and all other necessary information to Active Directory. All these will make the active directory authoritative.
Structure of Active Directory – Users will require new OUs and objects in Active Directory during Lotus Notes to Office 365 migration in order to copy into Azure. The current Active Directory should have objects like:
1. IBM Notes users who are not in Active Directory
2. Mailing databases
3. External contacts
4. Conference Rooms
5. Distribution Lists
Fault Resistant Active Directory – During the Lotus Notes to Office 365 migration, the replication of Active Directory data into Office 365 Azure Active Directory will be done. For this reason, you need to make sure that your directory is secured; and Active Directory Federation Services (ADFS) are resilient on-premises, in Azure or both.
Dealing With Technical Complexities of Lotus Notes Mailbox Database Structure
It often happens that the migratory organization has been using Lotus Notes for more than a decade. In such cases, Lotus Notes NSF file size can exceed 50 GB, that too without any quota on mailboxes. Large-sized attachments can also be present in abundant number. During the switch, enterprises must consider having a new policy that will go well with their new environment. It is always better not to migrate unnecessary, long unused, and obsolete data to Office 365. Here is what Lotus Notes used must do before the move to Office 365.
Know Your Necessity – This is something like shifting between two cities: you have to identify your actual necessity and take only what you need. The same goes for this migration, where just because having 30 GB database does not mean migrating the whole of it. You have to point out the real requirement and legal obligations and keep the outdated data out of the list for migration. Users must start pointing out the valuable data with some time in their hands. The decision to not export complete Lotus Notes data will undoubtedly speed up the process.
Review your IBM Design – Check the design of IBM Server. If the Lotus Notes mailbox data is spread all over the network and in locations with slow links, it will hinder the migration process. So, you need to have a fully functional IBM Notes server. Otherwise, users may need to copy their mailboxes to another server for enhanced performance, which will affect the organizational productivity.
Try Lotus Notes to Office 365 Migration tool for Seamless Data Transfer
During your organization's migration from Lotus Notes to Microsoft 365, the second biggest task is to export the IBM Notes data in Office 365. Only a data loss free file transfer will ensure that the continuity of your work does not get hampered. Therefore, we suggest you use Lotus Notes to Office 365 Migration Tool. This application will move complete Lotus Notes and IBM Domino data into your office 365 account. At the same time, if the users choose to move selective data, the utility will help them accomplish that task too.

Conclusion
In this post, we have shed some lights on the topic "Lotus Notes to Office 365 migration." The main aim of this migration is to get better service at a reduced expense and attain better productivity. Here, we have also introduced an application that will allow organizations to transfer their IBM Notes data into Office 365 with ease.