How to Merge Multiple PST Files into One? – Simple Way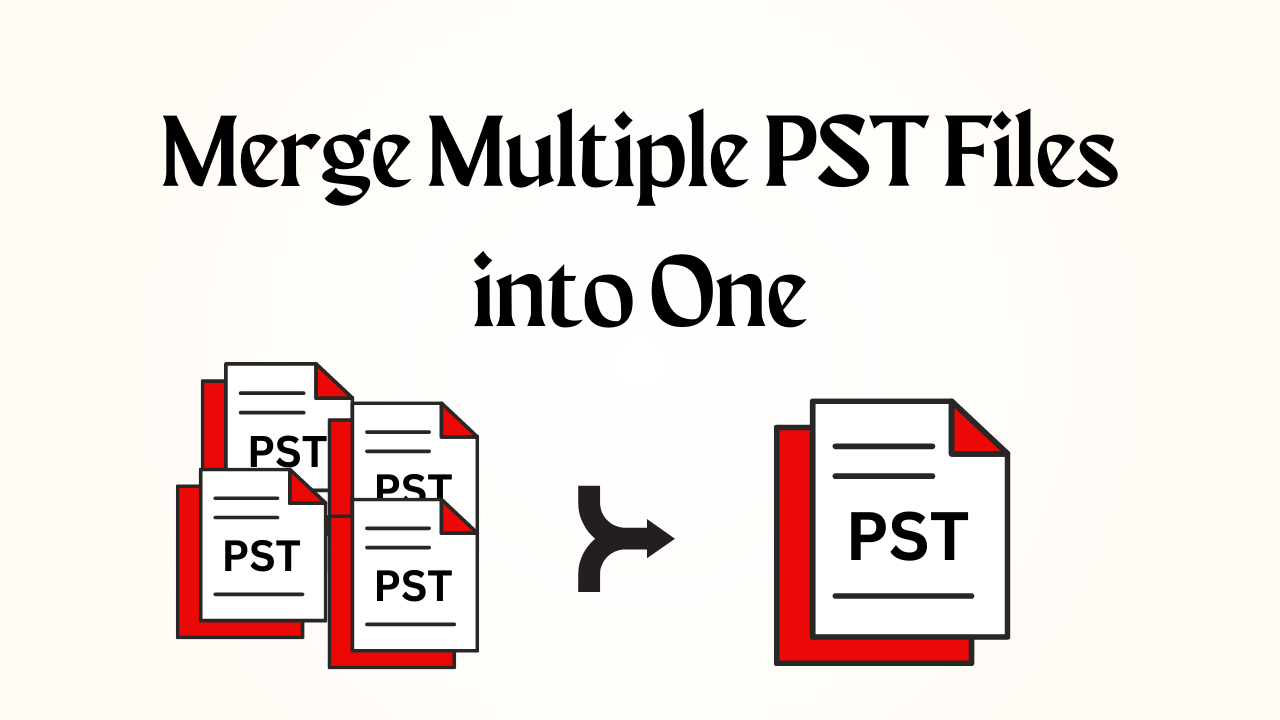 In Overview: If you use Outlook daily and have a lot of PST files. Then, managing them is a troublesome task. Especially, when you need to find specific emails or consolidate your data. Fortunately, there are several solutions available to merge multiple PST files into One. While streamlining the email management process. In this guide, we will walk you through the step-by-step process to merge two PST files in Outlook 2021, 2019, 2016, and the below versions. So, that you can easily access and organize your email data.
Table of Contents – Trouble-Free
Let us first once know all those important points which are more important for us. So, below we have described some reasons behind this task.
User Queries

Now, let us know the motive to merge two PST files in Outlook 2021, 2019, 2016, and the below versions.
Reasons Behind Merge Multiple PST Files into One
The user creates different PST files based on his needs. If PST files are used frequently, it is difficult to manage them. Therefore, users want to add multiple PST files into one file. For the same, consider the following:
The maximum size of an ANSI or UNICODE PST file is 2 GB and 50 GB respectively.
To avoid the loss or unintentional deletion of data.
The user has to view multiple Outlook PST files which are located on different PCs.
To save time and effort, avoid opening multiple PST files.
After knowing all the important reasons. Now, it's time to step to the bottom part. So below and we have explained step by step all the possible methods of merging two PST files in Outlook 2021, 2019, 2016, and the below versions, apart from this, there are two types of methods here. First, the manual method, and the second automated. So, let's start with the first method.
Merge Multiple PST Files into One – Manual Method
As we all know that Mycroft Outlook facilitates its users' data in PST file format. Apart from this, it is difficult to handle more PST files, so many users look for free solutions to merge them. That's why this part will prove beneficial for those users. So, follow all the steps mentioned below.
Method 1: Make a New PST File
Select "Outlook Data File" under "More Items" after selecting "New Item".
The "Create or Open Outlook Data File" window will open. Give this new file a name, then click "OK".
In the navigation pane, the brand-new "Outlook PST File" will be highlighted.
Method 2: Import PST File into New Folder
Then choose "File >> Open and Import >> Import/Export" from the menu.
The "Import and Export Wizard" will appear; Select the option to import from a different program or file, and then click Next.
Click Next after selecting "Outlook Data File (.pst)" from the list of file types to import.
To select the PST file to import, click "Browse".
Click "Don't import duplicates" and hit the Next button if you don't want to import duplicates.
Choose the import source folder. "Import items in the same folder" and "Include subfolders" should both be checked.
Finally, select "Finish".
Method 3: Using the Outlook Data File Import Option
The Outlook data file import option, which is similar to point II above, is another built-in way to combine PST files. Here, however, there's a difference: instead of starting with an empty PST and adding all your other data to it, we'll simply import one PST file directly into the other, thereby merging the two PST files into one. how is it:
Open "Outlook" and go to "File" >> "Open & Export" >> "Import/Export".
Now, select "Import From Another Program or File" and then hit on "Next".
Then, choose "Outlook Data File (.pst)" and press on "Next".
Now, Hit "Browse" to search for the PST file you want to merge.
After that, select a duplicate handling option and then click "Next."
The primary PST file folder where you want to import the data from the other PST file should be selected.
Finally, hit on the "Finish" button.
That's all, here are all the manual steps end. But, this method has multiple limitations. So, below we have mentioned all the drawbacks.
Drawbacks of the Manual Approach
The manual method is completely free of cost.
The process is very long,
It requires technical knowledge,
The chances of data loss are high,
Therefore, an alternative method is needed to complete the task smoothly and quickly without data loss. Choose which is mentioned below.
Merge Multiple PST Files into One – Automated Solution
You can use Revove PST Merge Software to merge two PST files in Outlook 2021, 2019, 2016, and the below versions. Moreover, this utility gives two different options such as merging Outlook PST files and joining PST files. Additionally, gives the option to add ANSI and UNICODE Outlook PST files. With the help of this utility, users can merge PST files of any size into a single file.
All the users of this PST merge software can choose from several options to combine Outlook files and get rid of duplicates. Additionally, in Outlook 2019, 2016, 2013, and earlier, any user can add or remove duplicate contacts. Users can choose to remove duplicate entries from the Mail, Contacts, Calendar, Tasks, Notes, and Journal sections.
Combine Multiple PST Files into Single PST – Guidelines
Download, Install, and Run this tool on your system to start the merging process.
Now, click on the "Add Files" and "Add Folder(s)" options to add a PST file in the software panel.
After that, choose the radio button corresponding to the text "Merge".
Now, hit on the "Merge All Folders" option to combine all Outlook folders.
Anymore, pick "Merge in New PST" to generate a new PST file. 
Finally, click the "Next" button to start the process of combining multiple Outlook.pst files into one. As the process begins, the merge pane with information shows the exact progress of the process.
That's all, here are all the steps to combine multiple PST files into a single PST end.
Why Software is Better Than the Manual Method?
You can merge Archive PST files using this Merger Software without worrying about file size restrictions or losing crucial information.
Any user can merge password-protected PST files with this tool. When joining PST files, the user does not have to enter a password for protected PST files.
With the aid of this dependable software, any user can merge active and orphaned PST files with ease. You may just copy the PST files and paste them onto your local system to make things simpler.
On a server that functions like a network, merging PST files is occasionally necessary. With the aid of this software's interface, the user can so seamlessly merge PST files with those on the network.
Time to Wind-up
Today we have told you all the possible ways to Merge Multiple PST Files into One in this blog, as well as we have also shown some reasons and user queries. Now it depends on which solution you choose to merge two PST files in Outlook 2021, 2019, 2016, and the below versions. Since these methods have their advantages and disadvantages, we suggest you use automated solutions to complete this process.
Frequently Asked Questions
Q 1: How Can I Increase PST Size Up to 100GB?
Ans: Open PST, and then in the right pane, right-click MaxLargeFileSize. In the Value data, enter the range (102400 for 100 GB) after clicking Modify and choosing Decimal. Select OK.
Q 2: How Can I Merge One Outlook PST File With Another?
Ans: Account Settings > Click Account Settings under the File tab. Click Add under the Data Files tab. After selecting the Outlook Data File (.pst) file you want to open, click OK.
Q 3: How Can I Combine Outlook PST Files Without Creating Duplicates?
Ans: Users can simply merge Outlook PST files without experiencing any duplicate issues by using the aforesaid automatic program.