How to Manage Outlook Data Files – Free Guide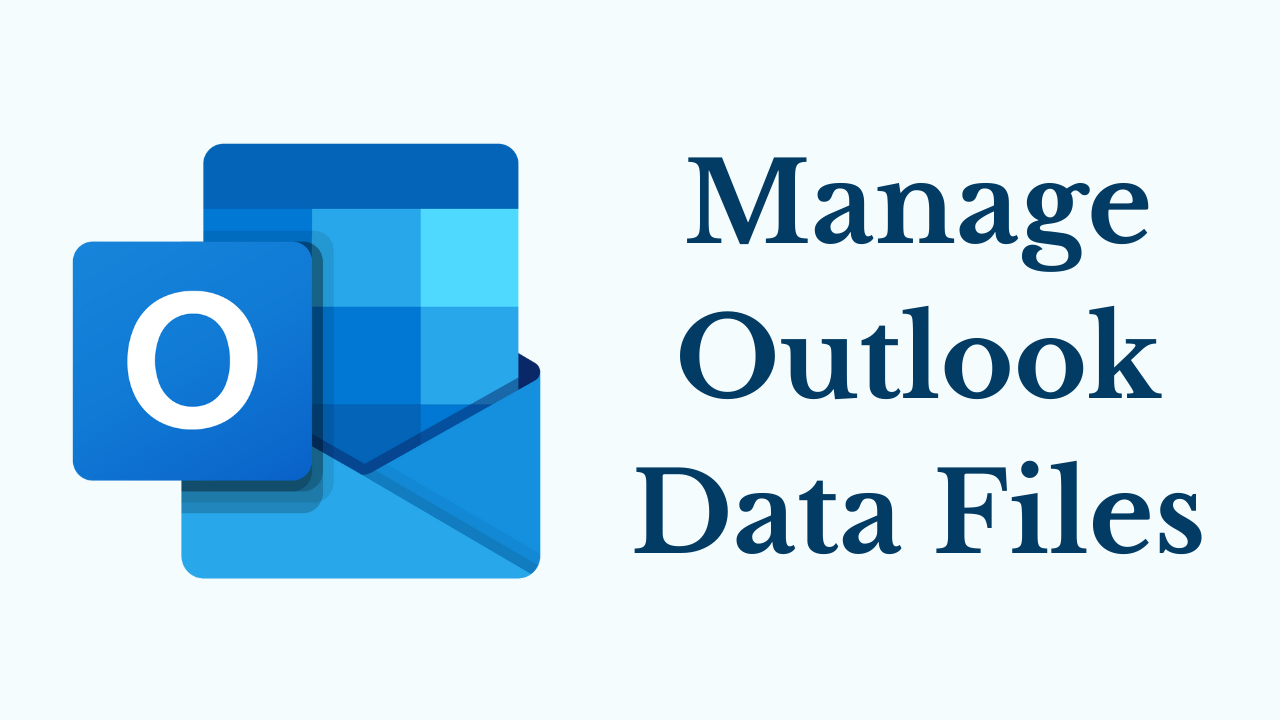 Introduction: Microsoft Outlook is a popular email client used daily by individuals and businesses alike. Additionally, with its powerful features and robust functionality, allows users to manage email, contacts, calendars, and more. Moreover, Outlook relies on data files to efficiently store and organize this information. So, today in this technical and informative blog, we will delve into the world of Outlook data files and provide you with practical tips on how to effectively manage Outlook data files. So, let's move on to the blog.
Table of Content – Easy to Read
Let us first get information about Outlook's famous data file PST.
Understanding Outlook Data Files:
Outlook uses PST (Personal Storage Table). A PST file is a local storage file. Also, it stores your emails, contacts, calendars, and other Outlook items on your computer. Moreover, this file acts as a local repository with the help of which users can access their Outlook data even when they are not connected to any network or internet.
Furthermore, it is essentially a database file that organizes and stores all the information associated with an Outlook user's mailbox. Also, users can create multiple PST files to manage different sets of data or to archive old items.
Now, move on to the below part to know about the PST file location in Outlook Versions.
Default Location of Outlook PST File
As we know from above that Microsoft Outlook is a widely used email client all over the world. In addition, there are many other versions of Outlook available such as 2021, 2019, 2016, and below. So, the locations of the PST file are different in all these versions. So, we have mentioned paths in below:
MS Outlook Version
Windows OS Version
PST File Location
Outlook 2000

Outlook 2003

Microsoft Outlook 2007

Windows XP
C:\Documents and Settings\UserName\Local Settings\Application Data\ Microsoft Outlook
Outlook 2007
Windows Vista

Windows 7

Windows 8

Windows 8.1

Windows 10

Windows 11

C:\Users\UserName\AppData\Local\Microsoft\Outlook
Outlook 2010
Windows XP
My Documents\Outlook Files
Microsoft Outlook 2010
Windows Vista

Windows 7

Windows 8

Windows 8.1

Windows 10

Windows 11

Documents\ Outlook File\
Microsoft Outlook 2013, 2016, 2019, 2021
Windows Vista

Windows 7

Windows 8

Windows 8.1

Windows 10

Windows 11

C:\Users\UserName\AppData\Local\Microsoft\Outlook
After knowing about the location of PST file formats. Now, it's time to know the size of the PST File.
Outlook PST Data File – Size Limit
Microsoft has also established several Outlook.PST file size restrictions. No more data can be saved in the PST file once the specified PST file size limit is reached or exceeded. Therefore, we have included size restrictions for PST in each version below.
You can only store up to 2 GB of data in Outlook 2002 and earlier versions of Outlook.
The size cap for Outlook 2003 and 2007 is 20 GB.
Thus, The maximum file size for Outlook 2010, Outlook 2013, and Outlook 2016 is 50 GB.
Software Suggestion:
If the size of your PST file has increased more than its limit due to more Outlook data. Due to this, there is more difficulty to manage Outlook data files. So you can use this Revove PST File Splitter Tool. It is a more reliable and profitable tool that is also used by non-tech users. In addition, this tool split oversized PST files into smaller parts. Also, splits large PST files by Size, Date, Year, Folder, Email ID, & Category.
How to Use Tool – Stepwise
Firstly, run this tool on your system.
Then, to add a PST file, select "Add File" and "Add Folder(s).
After that, check all the "Split Information" and then hit on "Next".
Finally, the utility will start the process to split the PST file into smaller parts.
From the above section till now we have come to know about many important things. Likewise, what is PST? Covered these default locations and many more. After that, let's get down to the bottom and go over the corruption/damage issue and the advantages & disadvantages of PST files.
Protect Your Outlook Data From Corruption
Protecting your Outlook data from corruption is critical to ensuring the integrity and availability of your email, contacts, calendars, and other important information. You can back up your data regularly, close MS Outlook properly, keep your system and Outlook updated, use antivirus software, and so on.
Alternative Solution – Tip
If even after doing all this, the Outlook data file has become corrupt, due to which the PST file is not opening, then you should use this Outlook Recovery Tool. Additionally, you can easily and fast recover and repair highly corrupt Outlook data files in just a few clicks without losing data. Additionally, users can easily recover password-protected damaged Outlook emails without facing any trouble. Moreover, you can easily manage Outlook data files.
Step-by-Step Instructions For The Tool
Firstly, Run this tool on your system.
Then, select "Add File" and preview all the PST data.
After that, process the damaged PST file and recover the intact PST file.
Finally, save the recovered PST files in the desired export option.
So, let us move on to the below section to know the advantages and disadvantages of the Outlook PST data files.
PST files – Advantages & Disadvantages
The PST file has many Pros and Cons. So, below, we are going to mention some points.
Positive Aspects
You can access your Outlook data from multiple locations thanks to the ease with which PST files can be moved or moved between computers or storage systems.
Also, you can use PST files to archive old emails and objects, which will reduce the size of your mailbox and increase the functionality of Outlook.
Moreover, to protect your Outlook data from loss or corruption and to provide a reliable means of recovery, PST files can be backed up.
Weaknesses
PST files can become fragmented over time, which can affect performance and increase the chances of corruption.
PST files can become corrupted as a result of things like malware attacks, file system failures, and sudden shutdowns.
Maintaining data consistency across multiple platforms is challenging because PST files do not offer real-time synchronization across multiple devices.
Time to Wind-up
Manage Outlook data files effectively is essential to maintaining a streamlined and high-performance email system. By understanding the different types of data files, locating them, backing them up regularly, compacting and repairing them when necessary, managing their size, and using repair tools when necessary, you can keep Outlook running smoothly. and protect your valuable data. Also, apply these best practices, and you'll be well on your way to mastering Outlook data file management.