Lotus Notes VS Outlook – A Race to Be Best Email Client Application | Comparison
Despite the invention of various new modes of communication like instant messaging, the business world still largely depends on emails for correspondence. Therefore, it is really important for every organization to choose a reliable email client. While choosing the email service provider, companies need to keep in mind their requirement and their financial capability. Read to know comparison of Lotus Notes vs Outlook 2016.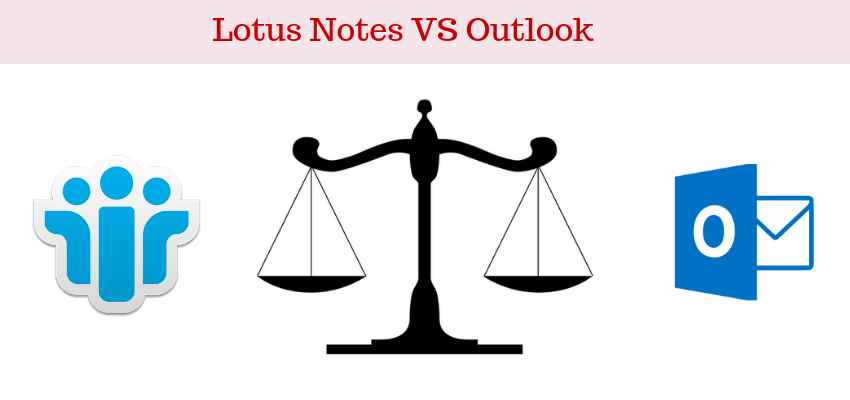 Both MS Outlook and Lotus Notes are popular enterprise level email clients known for their unique functionality and high-end security. Though the popularity of Lotus Notes is declining in recent time, it still provides complete security of your business data. On the other hand, MS Outlook is the email client with increasing popularity. That is the reason why users often get confused about which one to choose.
In this post, we will discuss the difference between Lotus Notes vs Outlook. We will touch upon the major attributes that matter for a business organization and see where these two email applications stand. Let us go to the main discussion now.
Lotus Notes vs Outlook 2016: What are the Differences?
Expense: Whether you are a small business owner or proprietor of a large enterprise, you do consider your expense while subscribing to an email client. Lotus Notes is undoubtedly costlier than MS Outlook. So, people who want to save some money, usually go for Outlook. Moreover, the web version of Outlook is available with Office 365 suite for free, which is an added benefit. Read to know comparison of Lotus Notes vs Outlook 2016.
Storage Facility: In terms of storage facility, IBM Notes has the upper hand over MS Outlook. IBM Notes users can store up to 64 GB of data in an NSF file, while maximum file size limit for PST file is 50 GB. However, users can split the PST file and create multiple PST file, all with 50 GB space.
Maintenance: Lotus Notes is a complex email client and its maintenance is also difficult. It requires specialized training to maintain Lotus Notes properly. On the other hand, MS Outlook maintenance is easier as it does not require much effort on behalf of the users.
Support for Multiple Account: Among many Lotus Notes security measures, one is its restriction regarding multiple accounts. IBM Notes users can use only one Notes account at a time in Lotus Notes email. But there is no such restriction in case of MS Outlook. Users can add multiple accounts for in Outlook and use them simultaneously.
Server Compatibility: IBM offers Domino Server for Lotus Notes and MS Outlook is best compatible with Exchange Server. So, if you are looking for their compatible servers, go for the Servers created the parent company.
Operating System: Supported operating system of email clients in an important thing to consider while picking up the right email client for your company. Lotus Notes is compatible with all the major operating systems in the world: Windows, Linux, and Mac. Contrarily, Outlook only functions of Windows and Mac OS as it does not support Linux.
Multitasking: In the latest versions of Lotus Notes, it allows users to multitask. While Notes is running in the background, you can replicate design, print email, detach files, copy design, monitor different processes, etc. Outlook also allows similar type of multitasking for its users.
Ease of Use: MS Outlook comes with an easy and simplistic interface. Even novice users have no trouble operating Outlook as it has self-explanatory features. But Lotus Notes is a complex one. May Lotus Notes users complain that they have no clue about most of the Lotus Notes features even after using it for some years.
Lotus Notes VS Outlook 2016: Who Takes the Trophy?
According to our discussion, it is clear that Outlook is the winner by a long margin. Outlook has many unique features and it is easy for users to get the best out of Outlook. Lotus Notes not only has fewer features, the utilization of its existing features are also difficult due to the complexity of interface. After going through the discussion, users should not have any confusion about which one to choose between Lotus Notes and Outlook.
If you are a Lotus Notes user and looking for a switch, Outlook is a good option for you. Since IBM will stop the support for Lotus Notes in 2021, you can move to Outlook even now to avoid any last minute rush. For Lotus Notes to Outlook data migration, Revove NSF to PST Converter is a reliable application. This tool can convert complete NSF file data (email, calendar, journal, notes, etc.) and names.nsf in PST format. Thus, it becomes really easy to import that PST file into Outlook without any trouble.