How Google Takeout Works- Know it Here!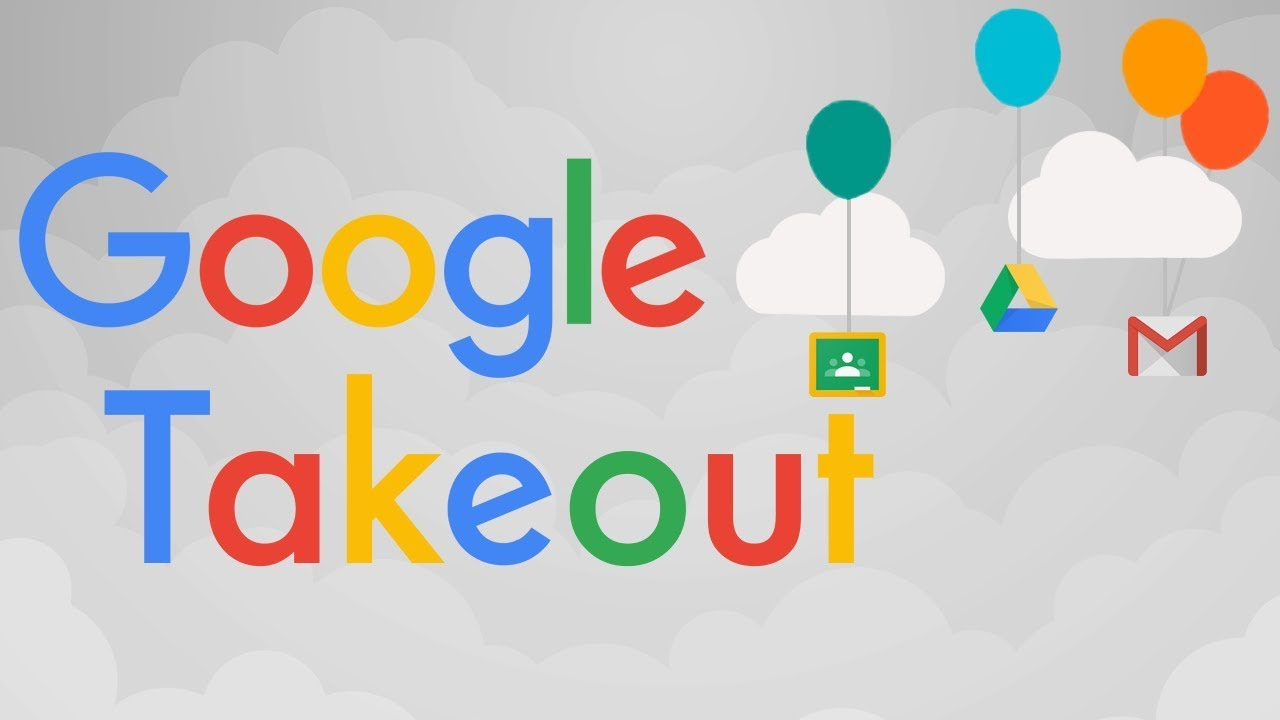 Many users want an answer to the question: How Google Takeout works? Well, here we have answered it in the simplest way possible. Google Takeout is the fastest way to remove Google data from Google Account. But Google doesn't offer to restore data on Google accounts. So because of this many times users find themselves in a situation where they need to know what is Google Takeout and how it works. So let's start this technical blog.
Table of Contents: Navigating Our Guide
What is Google Takeout?

We all know very well about Google and that Google collects our data by tracing it. And also we can store our data in Google Drive, Google Photos or Gmail, etc. That's why Google Takeout is an export tool that allows you to download your data to local storage or transfer it to another service.
If you are working for any business, organization, or educational institute, you must have heard about this useful tool in case any employee in the company wants to transfer his data to another account when he leaves the company. It is commonly used. Plus it's a quick solution that frees up disk space by downloading data from Google Drive or storing old files.
Why is it Necessary to Use Google Takeout?
Google Takeout can be used by large organizations as well as anyone. Because it is a free tool. Along with this, Google provides you with many types of free services that you will get to see some data on one or the other platform provided by Google. So below we have told you some points you will know why it is necessary to use Google Takeout:
Keep the free version of Gmail while storing more data than allowed
Free up space on your Google Drive by downloading and moving old files to physical storage
Copy important files to store on other cloud services
Offers you to download and export copies of various types of data that are currently stored in your Google Account, such as Mail and Drive.
Data can be kept locally on your computer or uploaded to a different external cloud storage service.
So till now, we have come to know from the above part that finally Google Takeout is done and why it is necessary to use it. Now we will move towards the bottom part, in which you will know how the Google Takeout tool exports the data of Gmail and what limitations it can have. So without wasting time let's move ahead. 
How Google Takeout Works?
If you want to export all your data like photos, contacts, emails, and attachments from your Gmail account to any other local place for free, then for this we have given you the step-by-step process below. By following this you can export data from your Gmail account. 
Method of Downloading Google Data with Google Takeout
First, Log in to your Google Takeout by logging into your Gmail account.
Next, Enter your Google Account ID and Password.
Then, Select the option to download the required data from the navigation bar.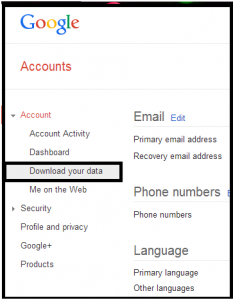 Then, hit on the Create Archive Option.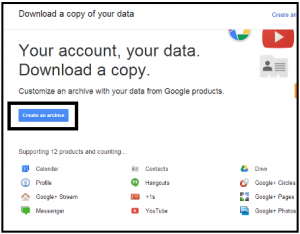 Now, a new window will open from which you can choose the services whose data needs to be exported. Check the desired check box for the required services. Google Takeout will create a zip file of downloadable data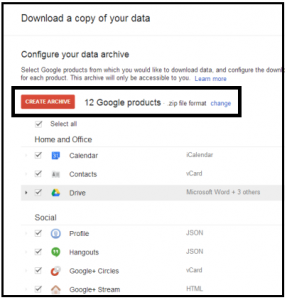 If you select the 'Change' link, two more preferences will appear on the screen with the zip files. Such as .tgz and .tbz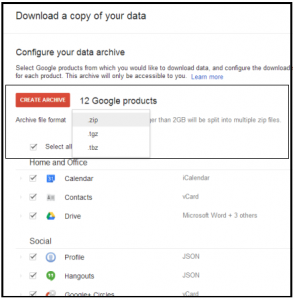 Your account will be logged out automatically when you select the "Create Archive" tab. Now log back into the account and a zip file containing all your data will be downloaded into the system.
So by following all these steps, you can extract data from your Google account. But along with Google Takeout being free, it also has some drawbacks which have been explained below.
Understanding the Google Takeout Restrictions
Google Takeout does not allow you to download files that are owned by someone else.
Also, Google Takeout saves the data extracted from the Google account in only MBOX file format.
Folders shared with you in Drive cannot be exported with Google Takeout, even if the folder contains files you have created.
Google Takeout has limited to 2 to 3 files per day: Creating Google Takeout files for Gmail is limited to three attempts per day and seven per week.
When exporting large files or folders you may end up with incomplete downloads.
You cannot create files for multiple users at the same time.
Only the account owner can create a takeout file. If an administrator needs to archive and download, the administrator must log in to the particular user's account to create the archive.
Sometimes when an administrator tries to create a user file, Google Takeout can be disabled.
The download progress is interrupted if Internet access is lost and cannot be resumed.
So we have learned about all the steps, with the help of which we can export data from Gmail to Google Takeout. Along with this, we have also come to know about its many limitations. Now, we will know about an alternative solution to overcome these limitations, so let's go ahead.
Try this Alternative Solution to Export Google Data
How Google Takeout Works, as described above, but it also has some drawbacks. To overcome these obstacles, you can try solid solutions like the Gmail Backup Tool. It is an all-in-one backup tool that allows you to back up all the data in your Gmail account such as email, contacts, calendar, and documents.
The backup file formats generated by this backup tool are PST, EML, MSG, PDF, and MBOX formats. You can also download all Gmail emails on your computer using this software. It supports Outlook Gmail, Windows Live Mail, and Apple Mail Backup. Manages Internet bandwidth for a smooth and reliable backup. These are the features of the tool. This software can easily back up data in case of a Google shutdown or accident. Also, there is no need to install additional software for backup Gmail email with this software.
How to Use This Tool 
1: Download, Install, and Run the tool on your OS to start the process. 
2: Next, Enter "Credentials" to Backup @gmail.com Account.
3: Choose Backup File formats such as PST, EML, MSG, MBOX, etc.
4: Select multiple filters to download the selected data
5: Select "Start" to complete the Gmail backup process.
The Essential Features of This Utility
This program provides a special functionality to maintain the folder structure of the Gmail account after the backup is complete.
Additionally, all metaproperties are stored with each email download, maintaining data integrity.
Also allows email attachment backup to a PDF file. The name of the PDF file created matches the subject line of the email.
At the same time, any user can use this tool according to his need, whether he is from a technical background or not, as well as its user interface being very simple and it is more reliable.
Concluding Our Discussion
In the above post, we discussed how Google Takeout works. Additionally, there are some drawbacks to using Google Takeout, so to overcome these drawbacks and help the users, we have shown a smart way to back up Gmail emails. With the help of this, you can do difficult work in just a few clicks and without losing your important data.
Common Google Takeout Frequently Asked Questions
Q1: How many times can I run Google Takeout?
Ans: Up to seven profiles can be added to Google Takeout each week. You can only make a certain number of attempts to download the archive. If you are unable to complete it in the first 5-6 attempts then the download link will be out of date.
Q2: How do I delete my Google Takeout history?
Ans: If you want to remove the Google Takeout history then follow the steps given below:
First, delete any extra activity saved to your account.
After this open your computer and go to myactivity.google.com.
Then click More in the search box above your activity. Other Google Activities.
You can delete some activity from here. Go to Activity and select Delete.
Q3: Is there a Better Solution than Google Takeout to Successfully Export My Data?
Ans: Yes, if you are searching then you have done better than Google Takeout which can export your data without loss and limitations. That's why I recommend that you use third-party tools.
Q4: Is Metadata Retained by Google Takeout?
Ans: Google Takeout doesn't keep metadata. It is a data export tool that allows the data associated with Google services to be exported to a file. Google Takeout is available to extract and export data from users' accounts.
Q5: Can Google Takeout give me my data by exporting it to PST file?
Ans: No, Google Takeout does not export your data in PST file format, it only exports data in MBOX file format. If you want your data to be exported to PST, then for that you should use the tool mentioned in this blog.