How Google Takeout Works- Know it Here
Many users need answers to the question: How Google Takeout Works? Well, here we have answered it in the simplest way. Google Takeout is the fastest way to extract Google data from a Google account. But Google does not offer to restore data on Google accounts. Therefore, because of this, many times users find themselves in a situation where they need to know How does Google Takeout work.
What is Google Takeout?
Google Takeout is a data recovery platform that allows users to import and export data from various Google products. Simply put, Google Takeout takes all your current Google data and compiles it into a file that you can download later.
Why is it Necessary to Use Google Takeout?
Keep a free version of Gmail while storing more data than allowed
Make space on your Google Drive by downloading and transferring old files to physical storage
Make copies of important files to be stored on other cloud services
How Google Takeout Works?
#Method of Downloading Google data with Google Takeout
Log into your Google Takeout by logging into your Gmail account
Next, Enter Google Account ID and Password.
Select the option to download the required data from the navigation bar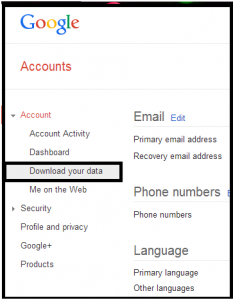 Hit on the Create Archive Option.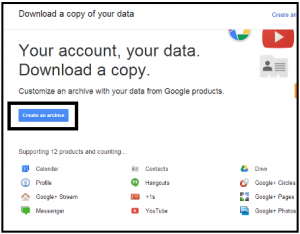 Now, a new window will open from which you can choose the services whose data needs to be exported. Check the desired check box for the required services. Google Takeout will create a zip file of downloadable data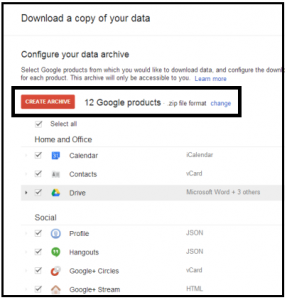 If you Select on the 'Change' link, there are two more preferences, which will appear on the screen with the zip files. Such as .tgz and .tbz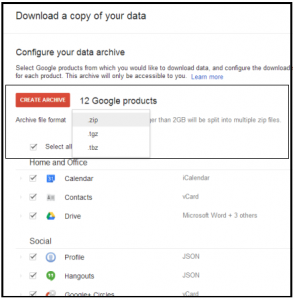 Your account will be logged out automatically as soon as you select the "Create Archive" tab. Now log back into the account and a zip file containing all your data will be downloaded into the system.
Google Takeout Restrictions
Google Takeout does not allow you to download files that are owned by someone else.
Folders that are shared with you in Drive cannot be exported with Google Takeout, even if the folder contains files that you have created.
Google Takeout is limited to 2 to 3 files per day: Creating Google Takeout files for Gmail is limited to three attempts per day and seven per week.
When exporting large files or folders you may end up with incomplete downloads.
You cannot create files for multiple users at the same time.
Only the account owner can create a takeout file. If an administrator needs to archive and download, the administrator must login to the particular user's account to create the archive.
Sometimes when an administrator tries to create a file for users, Google Takeout can be disabled.
If Internet access is lost, the download progress is interrupted and cannot be resumed.
How to Backup Google Data With Automated Solutions
How Google Takeout Works, as described above, but it also has some drawbacks. To overcome these obstacles, you can try solid solutions like the Gmail Backup Tool. It is an all-in-one backup tool that allows you to back up all the data in your Gmail account such as email, contacts, calendar and documents. The backup file formats generated by this backup tool are PST, EML, MSG, PDF and MBOX formats. You can also download all Gmail emails on your computer using this software. It supports Outlook Gmail, Windows Live Mail and Apple Mail Backup. Manages Internet bandwidth for a smooth and reliable backup. These are the features of Gmail backup tool. This software can easily backup data in case of Google shutdown or accident. Also, there is no need to install additional software for backup Gmail email with this software.
Steps To Backup Gmail Emails
1: Download and Run Gmail Backup Tool.

2: Next, Enter "Credentials" to Backup @gmail.com Account.
3: Choose Backup File formats as PST, EML, MSG, MBOX etc.
4: Select multiple filters to download the selected data
5: Select on "Start" to complete Gmail backup process.
Conclusion
In the above post, we discussed how Google Takeout works. Additionally, there are some drawbacks to using Google Takeout, so to overcome these drawbacks and help users, we have shown a smart way to backup Gmail emails .