How to Fix the Connection to Exchange Server is Unavailable Issue?
It may possible that you have encounter "Exchange Server is not available or Exchange is Unavailable in version such as 2007, 2010, 2013, 2016" while you trying to connect Outlook or Office 365. Read this blog to fix exchange server not available in any version. It suggest the best method to fix it all.
Technical Overview of Microsoft Exchange Server Not Available Issues
Microsoft Exchange server is the mail & calendaring server developed by giant software company Microsoft Inc. It provides simple and easy connectivity with widely used email client Outlook via cache exchange mode. But some time you may experiences that Microsoft exchange server not available or connection to Microsoft exchange is unavailable. You may also get error Microsoft Exchange Server is unavailable. While attempting to connect Microsoft Outlook in Office 365. As a result of which you are not able to access any data, mailboxes or stored items. Therefore, it need to fix as early as possible to reduce downtime and accessibility of data. Let's discuss the root cause of failure of exchange server in brief.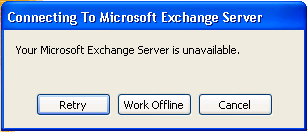 The Root cause of Exchange Server is Unavailable
The Outlook Profile may configured incorrectly
The network connection might be issue
Outlook Profile manually configured
The default gateway configuration missing in client application
Low network connection bandwidth or internal breakage
Also Read: How to Fix Exchange Server dirty Shutdown error
Know how to fix Exchange Server is not Available to Connect
# Solution 1:
Disturbance in Network Connectivity
1. The abnormal network connectivity is one of the major cause of exchange server not available error.
First you need to check connectivity issue between client application and the exchange server. For this you can use client version of utility provide by Microsoft named as Microsoft's Connectivity analyzer tool kit.
Quick guide to check connectivity using Utility
Download Remote connectivity kit from Microsoft site https://testconnectivity.microsoft.com/
Click on client button and then install now button.
Then after choose I cannot log on with Office Outlook option
Enter your SMTP(Simple Mail Transfer Protocol) address and login credentials to connect it with.
It also provide option to save result for future references.

2. If the exchange connectivity analyzer tool does not sense any issues then you need to create new Outlook profile for single mailbox in exchange server
3. On creating Outlook profile again, the problem further persists and multiple user get affected. Then in such case you need to contact official Microsoft support with complete issues and no user affected etc.
# Solution 2:
Third Party Applications Conflict Causes Exchange is Unavailable Error
Many times third party applications such as Antivirus and other similar applications interrupted in smooth connection of exchange server with outlook. Then in such case you need to start Outlook in safe mode. By opening Outlook in safe mode you are not able to access any plug-ins. If the exchange server not available error remains there. Then you need to take help of any professional solution
Conclusion
Due to Exchange server is not available error, the exchange database failed to mount. Then in such case a professional third party solution is only requirement to fix exchange server not available issue in quick time. Exchange EDB File Recovery Tool is one such solution. It is quire feasible & dynamic in nature to tackle exchange server issues. The software export recovered items in popular file formats which can be easily accessible in any email client. It supports exchange server version 2007, 2010, 2013, 2016 and all Outlook versions. Download software for free