How to Export Outlook Email to EML File Formats? – Explore Here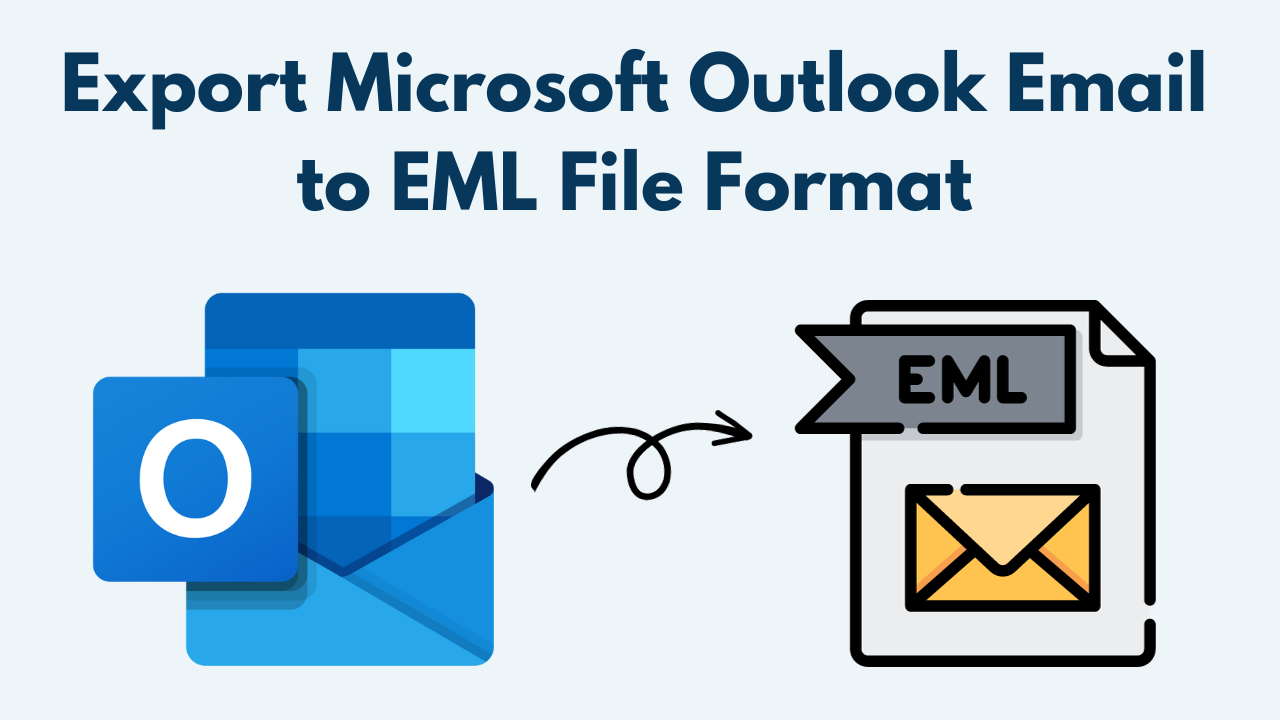 To be honest, today's post will suggest very easy & simple methods to export Outlook Email to EML format without facing any hassle. To know how it can be possible? Then, read this blog post to get all the possible solutions for your problems to export Outlook to EML.
As we all know, EML is an electronic file format used by many email clients. The need for to Outlook export all emails to EML file on a Mac arises when you have to move the data from Outlook for Mac to an email service provider that deals with its data using an EML file. Since the OLM file is a proprietary format, it is not accepted by other platforms. Due to this limitation, the Mac Outlook files have to be converted to EML.
Table of Content
So, let's begin one by one to get a solution for converting multiple or single Outlook emails into EML format. Before moving toward the solution let us take a look at user queries related to export Outlook Email to EML.
User Query!

What is an EML File?
EML is the short form of electronic mail. It saves email messages and all their information including sender, subject, date, and recipients as simple plain text in a file. Many major email programs, including Windows Live Mail, use this file type.
Now, we are going to discuss some reasons behind export Outlook messages as EML.
Also Read: Export Emails from Thunderbird
Reasons Behind Export Outlook Email to EML
There are several reasons why users want to export their emails into EML format. Some of them are listed below. Let's take a look at the same!
Save Individual Emails: The Email Message from an individual to another subject that is private and informal. This type of mail is common between relations and friends.
For Share to someone: It means that other users who use something that's yours or you're using. When you use the word share, So here we will take it in two pieces of information like who you shared, and what you shared it.
For offline reading: An offline reader which is known as an offline browser or offline navigator is a computer tool that needs to download email, newsgroup posts, or web pages, making them the available computer offline. The offline readers are useful for portable computers and dial-up access.
Forensic Purpose: Forensic is a critical element of the criminal justice system. To examine and analyze evidence from crime scenes and elsewhere to develop objective searching that can assist in the investigation and prosecution of a crime against an innocent person.
After understanding the reasons, we discussed the manual and automated solutions that help you solve your issues simply.
Manual Method to Export Outlook Email Data into EML
In this solution, we take help from Mozilla Thunderbird to export Outlook Email to EML file. If you are also searching for a manual method, then follow the below steps that help you to perform export Outlook to EML task manually:
Firstly, Open Mozilla Thunderbird Email Client.
Now, go to the Tools Menu and hit on Import to export Outlook messages as EML
Select Mail and click on Next
Click on Outlook and hit Next.
After that, the importing process will be completed in a few minutes
Select the required messages and Click on the "Save As" option to export Outlook Email to EML
Finally, see the resultant EML data.
Using these steps users can easily get the reliable solution EML files from Outlook PST using Thunderbird.
If you are still not getting any answers using the manual method. Then, no need to worry! In the below section, we have suggested a professional solution also which help you complete your task in an easy & simple manner.
A Professional Method to Export Outlook Email to EML
Use the trustworthy Outlook PST Converter Tool that helps you convert Outlook emails into EML format in bulk. This tool can easily export PST files into EML, HTML, MSG, RTF, MHT, and DOCX formats. Also, provide advanced features to make the conversion of Outlook emails to EML format.
Moreover, this tool is also available for both technical and non-technical users. To get more satisfaction with this tool to export Outlook to EML format you have to download the below tool in just a few clicks.
Steps to Export Outlook Emails into EML Format:
Follow the steps below to Know the easiest solution to export multiple Outlook Emails to EML file format. Let's take a look on convert Outlook email to EML process!
1. Download and run the Revove Outlook PST Converter Software on your Windows system.
2. Now, select the PST file by clicking on the Add File button.
3. Choose the Select File or Search File button to add PST files to export Outlook Email to EML file.
4. Select the radio button corresponding to EML or EMLX to export Outlook to EML.
5. Click on "Export" once the processing is done to export PST to EML.
6. Click on "OK" to view the success report to export Outlook Email to EML.
Note: If you are a Windows user and looking for a Mac OS then, you can go with this Mac OLM Converter Tool which helps you perform the conversion process to convert Outlook email to EML with Mac.
As we know this automatic tool also provides amazing advanced features. So, take a little look below for the same:
Advanced Features of Outlook Emails to EML
It allows you to choose the destination path to store the resultant data file in a specific location.
Capable of extracting batch email elements such as Attachments, Files, and Outlook Address Book.
Provides options to export emails, contacts, calendars, journals, and other direct EML file formats.
Using this tool, helps you to convert Outlook emails to EML format without using Outlook.
It has a user-friendly interface that can be used by non-technical users.
Frequently Asked Questions
Q 1: How Can I export Outlook to EML Format using a Tool?
Ans: You can easily convert your Outlook email data into EML format using this tool. Follow the below steps for the same:
Download and run the Revove Outlook to EML Converter.
Now, configure Outlook or Upload data.
Select the required emails.
Go to Export >> EML.
At last, you get the resultant data.
Q 2: How Do I Export Emails from Outlook to EML on Mac?
Ans: For Microsoft Outlook 2016/2011 on Mac: Double-click and open the email message that you want to save into .eml format.
Q 3: How to get a PST File from Outlook?
Ans: You can easily get your PST file from Outlook on your desired location for Windows.
Summarizing
In this article, we have discussed a complete solution to export Outlook Email to EML format in a hassle-free manner. This post recommended two methods which are manual and professional solutions which make your task easier. You can easily go with an automatic tool to finish your conversion process to convert Outlook email to EML format. The manual method is unable to convert multiple Outlook emails at a time. For more information read the blog.