Best Exchange Online Backup Software – 100% Secured Data Backup
Exchange Online is a web-based email application, which is extensively used across the globe. Sometimes, there are many chances access the personal data from the account or it may be forged by anyone. That's why, many users want to switch their account to any other mail client, in order to avoid misuse of their important data. Regardless, to extract data from Exchange online and move to another platform, there is a need to backup Exchange Online mailbox. In this blog we are going to see one of the best Exchange Online Backup software That will help you to solve your problem.
Most of the people frequently search for a reliable solution, which not only backs up data, but also helps to recover Exchange Online mailbox. Exchange Online Backup solution is a powerful solution to get data back at ease. Then we can get started with our software solution!!
Exchange Online mailbox backup Tool : A Reliable Solution
This tool is specially designed to save single or multiple Exchange Online mailboxes to a local machine. With the help of this Office 365 email backup tool, a user can easily download their email and all other data from Exchange Online account. It is one of the best applications, which allows to save your mailboxes data into different file formats like EML & PST. It is also capable enough to get back all your locally saved PST file data into Exchange Online tenant without any burdensome. Through this option user user can easily manage their backed up data in the future uses. Find the demo version here:

Key Features of Exchange Online Backup Software
Save One or More Mailboxes of Exchange Online
This tool lets you to save single or multiple mailboxes of Exchange Online to the desktop. So that you can manage backup of multiple user account at same time without consuming any extra time. The software facilitates various filters to customize this migration process. You can simply checkbox beside both (mails and documents) to backup emails as well as documents according to your need.
Option to Schedule Backup- On Demand
This amazing feature helps to ensure data is backed up at a specified time. It also provide four different options:
Daily: You can opt this feature when there is a need to take backup of Exchange Online mailboxes on a regular basis.
One Time: This option is used to move mailboxes from Exchange Online to the desktop at one time.
Weekly: Use to perform complete backup once in a week.
Monthly: This feature lets you make a backup copy on the monthly basis.
Download Complete Mailbox Data
The backup is created of complete data of account during backing up Exchange Online mailbox. This software allows you to save Exchange Online emails to EML format and other documents in its original format. Once the backup is finished you can download selected items (emails and documents) or full backup items into PST format.
Provide Filters to Selectively Backup
The Exchange Online Backup tool offers Date Filter option to backup data from a certain date range only. This feature is beneficial for those users who want selected emails instead of taking backup of all emails on the computer. If you want to apply this feature, then simply click on Date Filter option.
Retains On-Disk Folder Hierarchy
The software keeps the folder structure and all metadata properties of email messages same during export procedure. Moreover, this tool maintains email attributes such as To, Date, From, Attachment, Subject, etc., intact during the backup. Thus, in future, if you take backup file in the supported application, emails will still remain original content.
Facilitates PST file Restore Option
With this option, you can easily restore mailboxes to Exchange Online from PST file. By using Impersonation option, you can recover multiple PST files to Exchange Online tenant. For this, you need to log in to Exchange Online account with proper admin credentials like Admin ID and Password. Once the account is validated, the software allows to restore mailbox to Exchange Online account.
Working Steps of Exchange Online Backup Mailbox Tool
Download and Install Exchange Online Backup Software on your local system.
Then, Click on Account button for login into your account. Now, enter credentials and select Sign In button.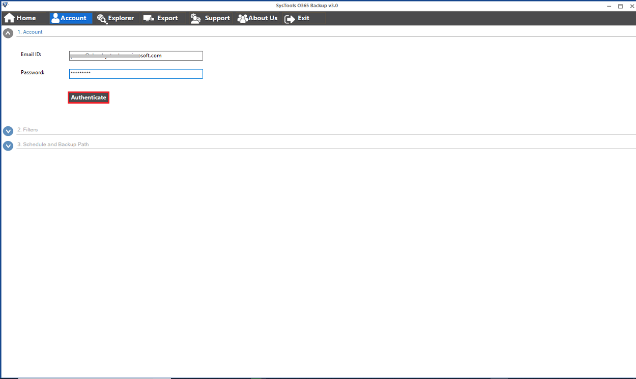 Select the items that you want to get backup like Mails or Documents. Just check the box corresponding to the required data item.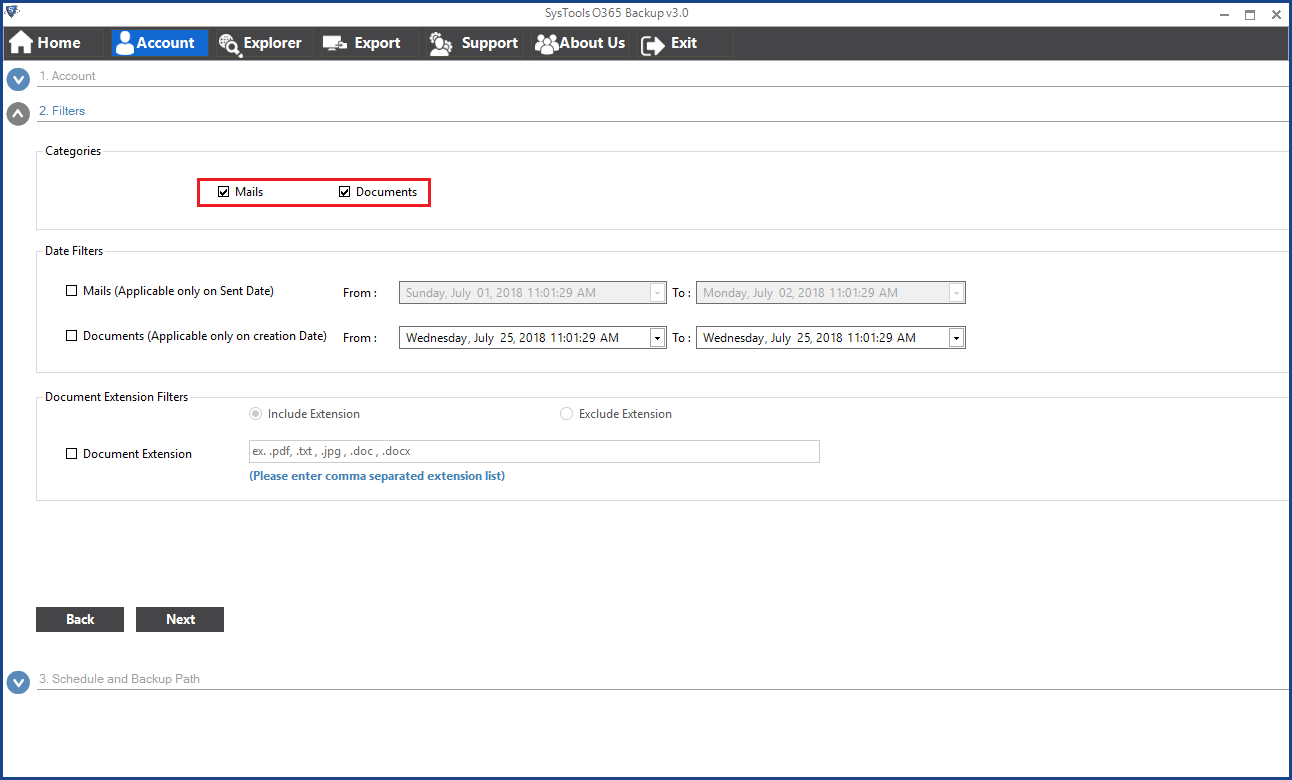 Now, choose schedule option and set the scheduler as desired.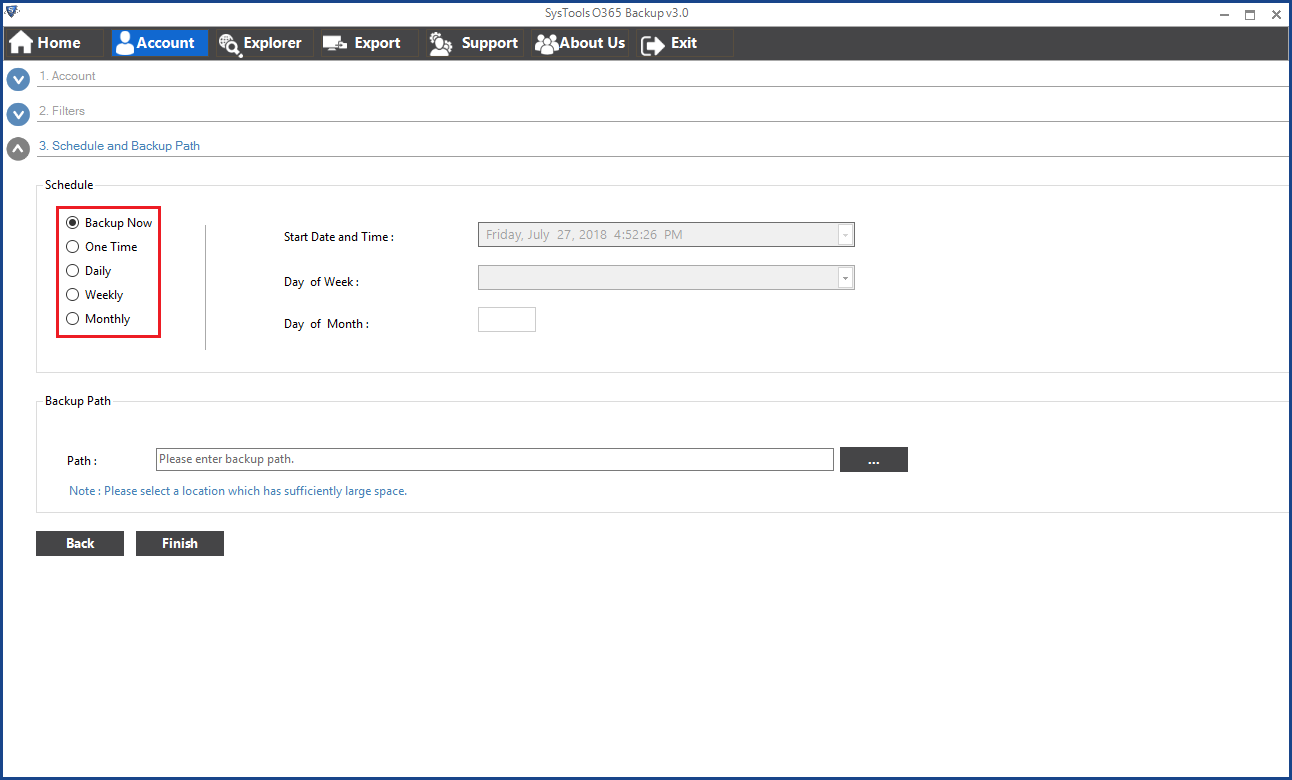 At last, click Finish button to initiate the backup process.
The Bottom Line
Keeping in mind the importance of backups, Exchange Online Backup software is built. It is a smart and reliable solution for Exchange Online backup to PST / EML on a local machine. It is also having a simple and user-friendly interface, so anyone can operate this product without any difficulty. After considering the overall functionality of the tool, it can be rated as 9.8 out of 10.