A Complete Guidelines to Convert OLM to PDF in Bulk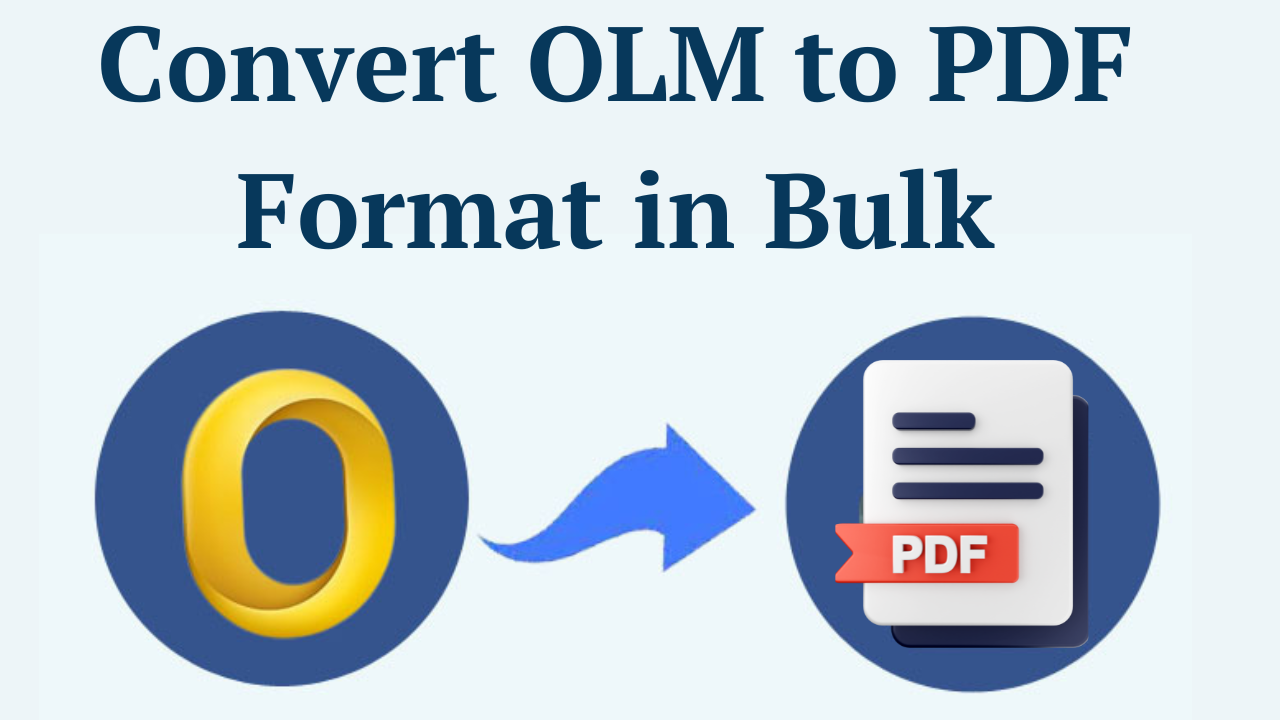 Summary: If you using Mac Outlook and you have lots of OLM files. Now, you are looking for the best solution to convert OLM to PDF in bulk. Then, this technical guide will get all the possible solutions to convert OLM to PDF. Using a manual method and automated solution you make your conversion process easy in a hassle-free manner.
Table of Content
Now, before moving toward the solution. Let us take a little intro to the OLM file and PDF file.
User Query: "Hi, I have been using an OLM file for the last 2 years but now I want to save my OLM data file in PDF format. Because I am facing some issues using the OLM file. After using a PDF file I feel safe & secure with it and easily convert my batch OLM file into PDF format. Thank you so much for suggesting a wonderful solution."
OLM and PDF – Short Overview
OLM file is a data file that is used by Outlook for Mac to archive your Email Messages, Contacts, Calendars Items, Tasks, and Notes.
On the other hand, PDF (Portable Document Format) is a file format that captures all the elements of a printed document as an electronic image used to view, navigate, print, and forward to someone else.
In the next section, we know why the user needs to convert the OLM file to PDF format. After that, we are going to learn about expert-recommended solutions one by one.
Read More: Convert OLM File to vCard
Why Do Users Need to Convert OLM to PDF in Bulk?
There are multiple reasons why users need to convert their OLM files into PDF format. Some of them are listed below:
Easy to Share Document: PDF files easily share documents. It helps you to share the files over the Internet and with other systems. It maintains the original format after transferring the .pdf file.
Password-Protected File: The user can easily protect data in a PDF file by just putting the password in the file. Only authorized users can read this file.
Wide Accessibility: It is a separate file format. Users can easily open this in any operating system. No requirement to install any application to view the content of PDF files.
Accepted as Legal Evidence: PDF is an acceptable file format for Official Notices and Legal Proceedings. It is impossible to change the content of a PDF file. Because it is accepted as Legal evidence in court and law firms.
Manual Method to Export OLM File to PDF Format
If you are one of those, who are searching for a manual method to batch convert an OLM file to PDF format. It cannot allow you to batch convert OLM to PDF file format with attachments. This method has some limitations. Let us know by following the below working steps:
Open Outlook on your Mac system to start the process.
Now, choose the "Email" which one you want to print in PDF.
Then, click on the "Save As PDF" option.
Finally, give "File Name" and then hit on the "Save" button to convert OLM to PDF in bulk.
Note: So, using the above steps, we hope you understand that manual methods have some restrictions and require technical knowledge. Some drawbacks are mentioned below:
Drawbacks of the Manual Method
No option to save Multiple OLM files in PDF Format.
You have to repeat the process again and again for each email file.
For manually, users have to install Outlook for Mac on their devices.
As we all know, how do manual methods work, and what challenges are faced by users during conversion? But, don't worry! We have suggested a professional solution that helps you export bulk OLM files into Adobe PDF format. Let us take a look at the same!
Convert OLM to PDF in Bulk Using Professional Way
The manual method cannot convert a batch OLM file into PDF format with attachments. Then, grab this Revove OLM Converter Tool it helps you convert multiple OLM files to PDF format without losing any data. It has no restrictions to convert bulk OLM files to PDF with attachments at a time. Download the tool for Mac and Windows users after fully satisfied.
Moreover, there is no need to have technical knowledge to perform this OLM to PDF conversion process. This tool provides you 100% security to save their data with all information. Also, it works offline. You can easily perform this professional solution for OLM to PDF file format in a hassle-free manner. With multiple benefits provided you make your process easy & quick.
Steps to Convert OLM File into PDF
Follow the below-working steps to perform an automated solution to convert OLM files to PDF in bulk format.
Download the software on your Mac Machine to start the OLM file PDF format conversion.
Now, click on the "Add File/Folder(s)" button to add the OLM file in the software penal.
Then, select the destination path from the default option i.e., MSG, MBOX, HTML, VCF, CSV
After that, select the "General Settings" to export data in PDF format.
Finally, click on the "Export" button to finish the conversion process to convert OLM to PDF in bulk.
Best Characteristics of the Software
Convert Mac OLM files in bulk with the add folder option.
Convert OLM Mac file to PDF format including attachments.
Options to export specific data from OLM using date-based filters
Attachment settings are supported when exporting to PDF format.
When exporting to email format, provide naming conventions.
Note: Hope your searches are finished here! If yes then use this automated tool to batch convert OLM to PDF format with attachments in a trouble-free way. Or you can choose as per your requirements.
Bringing It Altogether
In the above article, we have discussed how to convert OLM to PDF in bulk. This blog post guides you about manual and professional solutions to make your task easy. If you choose a manual method, then you have to face some restrictions and it cannot allow for multiple OLM files into PDF with attachments.
Don't worry! You can easily go with an expert recommendation tool to batch convert OLM files into Adobe PDF along with attachments in an error-free manner. This tool has no limitations; you can export numerous OLM files to PDF with just a single click. For more details read this post or contact our support team!