How to Convert AOL Mail to Outlook? – Top Methods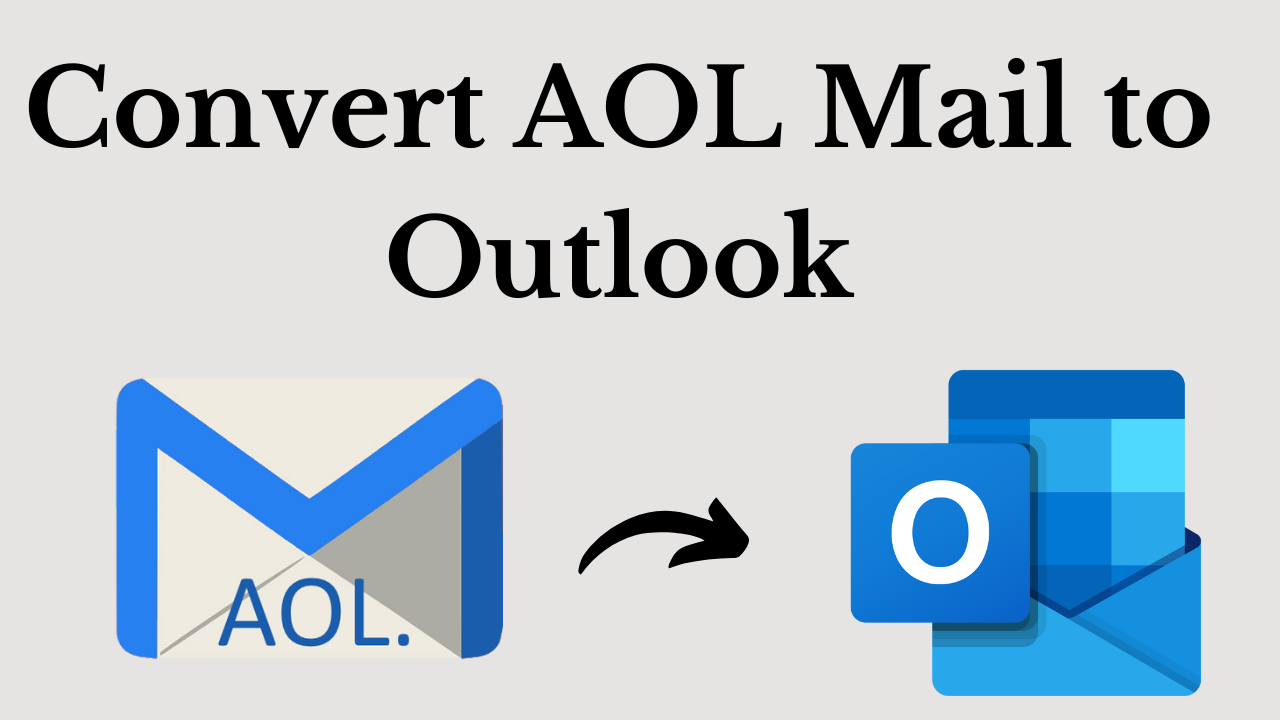 Summary: If you are using AOL Mail and you are planning to switch to Outlook, you may be wondering how to convert AOL Mail to Outlook. So through this blog post, we will guide you through the process of converting AOL Mail to Outlook. So to know the resources, read this technical rote till the end and solve your problem.
Table of Content
First of all, let us have a look at the user query. Then we will have a look at all the reasons why the user thinks to initiate this process. Then after that, we will increase the further steps of the solution. So let's start to know.
User Query: "Hello, I've had an AOL mail account since 2015. Her AOL mail account, which contains many important emails and papers, was just hijacked. Because of this, I'm trying to recover AOL email for the precious I want to export AOL mail folders to PST format. Because any version of Outlook can open PST files without any trouble. Does anyone know how to export AOL mail folders to PST files? Please help me.
Now, let's move to the reasons section to know the purpose behind this conversion process.
The Cause Behind Convert AOL Mail to Outlook
Users may wish to move from AOL Mail to another email client, such as Microsoft Outlook, to benefit from new features or greater integration with other software products.
In the event of data loss or corruption, customers may wish to export their AOL mail to a PST file as a backup. PST files offer a practical approach to protecting important email data because they are simple to back up and restore.
Users may choose to switch from AOL Mail to another email account, such as a work email account, and they will need to transfer their contacts and email.
People may wish to combine their different email clients if they have more than one email account. Users can quickly import their email into an email client by exporting AOL Mail to a PST file.
To comply with laws or regulations, users may choose to archive their AOL Mail communications. Due to their wide support and ease of use for searching and sorting, PST files are a preferred format for storing email data.
Well, we went through all the important reasons behind this process. Now, we're moving to the bottom part where we're going to go over how this process is accomplished. So from the beginning here are 2 methods available with the help of which we are able to complete all the backup, conversion, import/export etc tasks. So let's start the process with the first way.
Free Method to Convert an AOL Mail to MS Outlook
If you are looking for a manual method to perform this task. Then, you can follow the method steps given below. We have divided the manual method into team steps. So let's go to the next step.
Step 1: Export AOL Mail to PST file
The first step is to export your AOL Mail to a PST file. PST file is a file format used by Outlook to store email messages, contacts, and other data. To export your AOL mail to a PST file, follow these steps:
Open your AOL Mail account in a web browser.
The email messages you want to export to Outlook should be chosen.
Click on the "More" button and select "Save As".
Select "PST" as the file format and select a location to save the file.
Click "Save".
Step 2: Import the PST file to MS Outlook
Now our next step is going to import PST files to MS Outlook. To do this, follow these steps:
Open Outlook and then hit "File" on the menu bar.
Select "Open and Export" and then "Import/Export".
In the "Import from another program or file" box, select it and then click "Next."
Click "Next" after choosing "PST (Personal Storage Table)".
Browse to the location where you saved the PST file in Step 1 and select it.
Select the option "Import items in the same folder as:" and choose your Outlook folder.
Click "Finish".
Step 3: Configure Outlook to Use Your AOL Mail Account
The last step is to set up your AOL Mail account in Outlook. Follow these steps to accomplish this:
First open MS Outlook, then go to "File" from the menu and select it.
"Info" and "Add Account" should be selected.
Click "Connect" after entering your AOL Mail email address and password.
Your AOL Mail account will automatically be configured in Outlook using the default settings.
Select "Done" from the menu.
Limitations: Let me tell you that there are many limitations of these manual methods, such as consuming maximum time, having technical knowledge, Outlook should be already installed on your PC, increasing the number of changes of data loss, and many more. If even through these processes this task is not completed, then you can choose the solution given below and use it.
Automated Solution to Convert AOL Mail to Outlook
There are many users here who do not want their data to be lost, so for this, you can use this tool AOL Backup Tool. This tool is very effective and useful and it is tested by IT engineers. Furthermore, this tool is capable of converting all mailbox items of AOL accounts to different multiple file formats such as PST, MBOX, EML, MSG, etc. You can add AOL Mail to any email client like Outlook, Thunderbird, etc.
Click Here to Install this Utility:
Also Read: Move AOL Email to iCloud
How to Use- Full Guidance
First, download and run software on your local system to start the converting process.
Now, enter the AOL Login Credentials in the software panel to log in AOL account.
Then, select PST (as an output result) to download AOL emails to the computer.
Now, choose Filter Options for backup selective email folder.
Lastly, begin the download process to back up AOL data to MS Outlook.
Unbelievable Features of Tool
This tool gives users a quick and easy way to back up and export all the data associated with their AOL Mail accounts, including email, contacts, calendars, and attachments. Users can quickly export their data in their desired format by selecting from a range of file formats.
The application also provides scheduling options for automatic backups, which can save customers time and guarantee that their AOL Mail data is consistently backed up and current.
To guarantee the safety and security of users' AOL mail account data during the backup and export method, the program is safe and reliable software.
The tool has a straightforward interface that enables users to easily locate and complete a variety of tasks, making it user-friendly and easy to use.
The End
This blog contains different strategies to convert AOL Mail to Outlook. We have described two manual solutions and a professional solution to export AOL Email to PST format. Well, the manual solution is not reliable as it involves chances of data loss, and it makes the entire process complicated. Our recommendation for users is to go with an automated solution that delivers precise and accurate results.
Frequently Asked Questions
Q 1: How do I Transfer My AOL Email Data to an External Hard Drive?
Ans: To transfer email data from your AOL to an external hard drive, first log in to your AOL account. After this, go to the drop-down menu and select the print messages option. Now click on the Change option in the new tab that opens. Then click on Save as PDF. and press the save button to move the data to the external hard drive
Q 2: How do I Transfer My AOL Mail Folders to My Hard Drive?
Ans: If you want to move email folders from AOl to a hard drive, then for this you first launch the desktop version of AOL. Then log in to the AOL account. Now open the message you want to move. After that, you hit the Save menu and click on My PC. Now finally, you need to select the folder in the Personal Filing Cabinet in which you want to save your emails and hit on the OK button.
Q 3: How to Solve Problems Logging in to AOL Mail?
Ans: Most sign-in problems these days can be caused by password problems, although you may also get a blank or inaccessible screen or various errors when trying to log in. Whatever the problem, the troubleshooting steps below should help you fix it and get back online. For faster AOL Mail. so for this you
Sign in again
Reset web settings.
Fix the correct password issue.
Change your browser
Check your browser cache issue
Provide Java applet scripting.
Turn off the firewall and pop-ups