How To Access Outlook Temp Folder – Precise Solution
Many Microsoft Office for Mac, OS X users may need to open Outlook Temp folder, which stores everything from attachments to cached versions of items you are actively working on but attachments to Outlook Is launched as. For example, if someone emails you a report as an attachment, you open it and work on it in Word, Excel, PowerPoint and save it, it is a saved document that starts as an Outlook attachment Has occurred, usually located in Outlook's temporary folder. Before continuing the process, let us know about Outlook temporary files.
Overview Outlook Temp Files and Folders?
Whenever an Outlook user opens or adds an email attachment, a copy of these attachments will be saved in the subfolder of the Outlook Temporary Internet Files folder. First, Outlook looks for the .OLK folder in the registry to store temporary attachments, and if it does not exist, a new folder is created.. This is to ensure that the received attachments are posted in a different location.
Method To Access Outlook Temp Folder on Mac OS X?
Follow the below mentioned steps to open and view Outlook Temp folder with all versions of Mac OS:
Navigate to Finder on Mac OS X, it doesn't matter if it's a desktop or a folder
Drag down the "Go" menu and Click "Go to Folder" (if you want keystrokes, press Shift Command G)
3. Enter the path mentioned below:
~/Library/Caches/TemporaryItems/Outlook Temp/
4. Select the "Go" tab to open Outlook Temp cache folder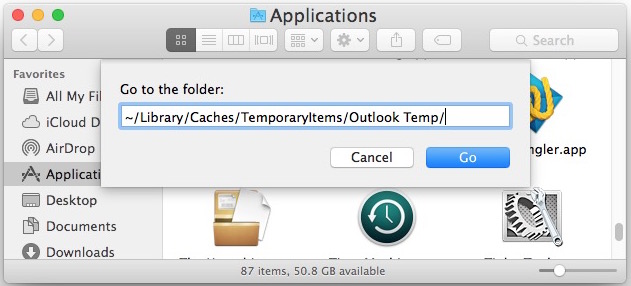 5. Hit the "Go" tab to open Outlook Temp cache folder
The Outlook Temp folder contains attachments and other items created by Outlook and used with Outlook, some of them user-oriented and some not.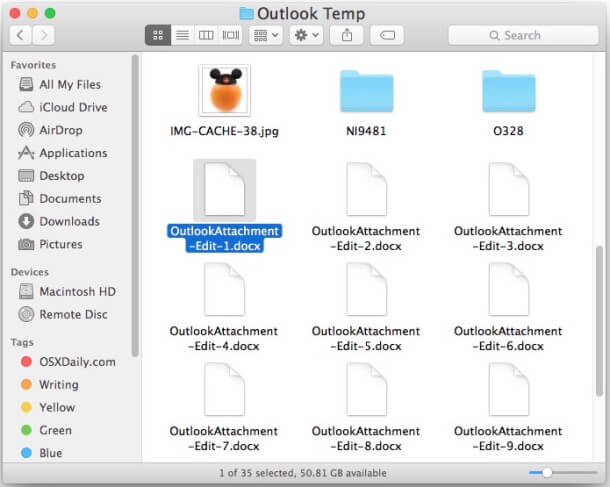 The Outlook Temp folder on your Mac is where you'll find the files you need, whether it's the attachments you're editing, the attachments you want to copy, or any other file.
How To Access Outlook Temp Folder On Mac OS? – Expert Solution
If you do not want to go through such a long method, then you need the help of an automated Tool. To do this, you will need to download the OLK Converter software. The software provides the ability to preview all the attached attributes of a .olk file. It provides several options such as common mail view, hex, properties, message header, mime, HTML, RTF and attachment. The user-friendly interface makes it easy to work with the utility. In addition, the software is designed with robust security algorithms, so there are no data loss and security issues. Some of the beneficial features of OLK15 converter are given below:
Provides the ability to split large PST based on its size.
Convert OLK email, contacts, calendar, notes to PDF format
OLK14 provides categories for message conversion: email and calendar.
Simple Working Steps to Access your Outlook Temporary Folder
The following is a step-by-step approach to open and view Outlook Temp folder without Mac OS X?
Download and Run OLK Conversion Software on your Machine
2: Select "Folder" or "File" Mode & Choose olk14 or olk15 Message File.
3: Preview OLK File with all attributes like emails, contact, calendars etc.
 4: Click on Adv. Setting and convert .olk data files in Multiple file formats.
Conclusion
However, manual focus is actually a free way to access Outlook Temp Folder. This may attract users, but it does not always guarantee satisfactory results. There are also options for data loss and file size limits. That's why we called it commercial OLK Conversion software. It shows users how to open OLK15 / OLK14 messages in the most efficient and reliable way on Mac OS. You can choose whatever you want.