How to Open OST File Without Outlook – Here Is The Trick!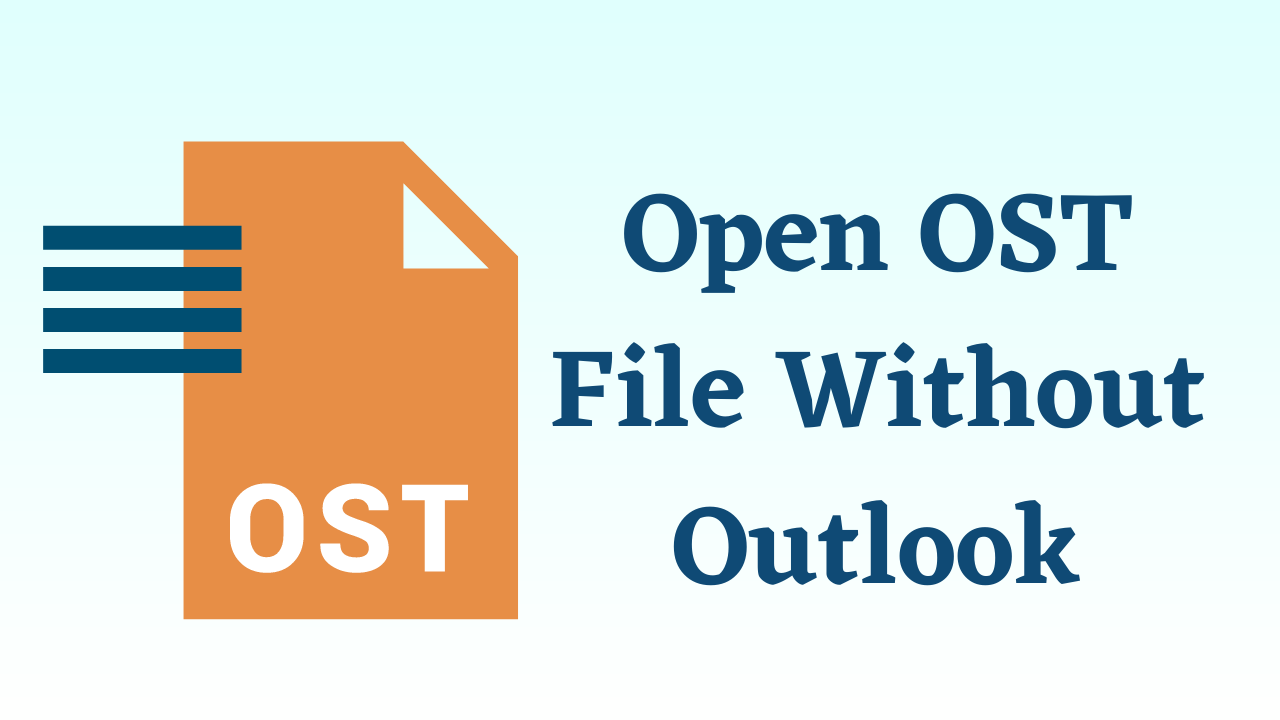 In Synopsis: The OST (Offline Storage Table) file is created by Microsoft Outlook which is used to store mailbox data while working in offline mode. However, opening an OST file without using Outlook is a challenging task. So if you are also looking for such a solution, with the help of which you can open OST file without Outlook, then you are doing the right blog.
In this comprehensive guide, we'll explore the various methods and tools that will help you access the contents of your OST file without the need for Outlook. Whether you want to extract emails, contacts, or other data from an OST file. so without wasting any time let's start the blog to learn how to read OST file without Outlook.
Table of Contents – Easy to Find
Let us first know about the OST file. After that, we will know some more important things.
User Query: My team leader recently shared an OST file with me. I need to open that OST file without having to use Outlook. My computer does not have Outlook installed. I need to check some information in that OST file right away. Is there a quick and easy way to learn how to open an OST file without Outlook?
Now let us move on to the below to learn about the OST (Offline Storage Table) File.
Deep Understanding of OST File
When a user adds or creates an account in Microsoft Outlook, OST files are created as a local data copy. For example, if you connect your email account to Microsoft Outlook, a local copy of your email, contact list, messages, and other relevant data will be created as an OST file. The main advantage of this type of file is that it allows you to access your contacts, calendar, and mail even when you are offline.
The latest changes made to the OST file will be instantly synchronized with the account once the internet connection is restored and open OST File without Outlook. OST files are used by many reports including Exchange, IMAP, and Outlook accounts to store copies of synchronized data that enable edit mode without the need for an Internet connection. OST files help users to continue working on email accounts even when there is a weak connection.
Now, let us know the additional things about the OST (Office Storage Table) Outlook file. Then, we will move on to the solutions part to read OST file without Outlook.
Additional Information Regarding OST Files
Even though OST files provide an easy and flexible working environment for users. But, still, it has some limitations that you need to know before opening .ost files without Outlook.
Orphan File Possibilities
Sometimes there are chances when an OST file gets orphaned due to a lack of connectivity between Outlook and Exchange mailbox for a long time. or in case of its accidental deletion, the host file becomes an orphan even if you have not taken any backup of the OST file from the exchange server.
Several factors, including virus infection or unstable connection while synchronizing data, can cause your OST file to become damaged. Other times, OST file corruption occurs due to huge file sizes and internal program conflicts. You may see an error message such as "Cannot start Microsoft Outlook" or "Errors were found in the xxx.ost file" in any of these situations.
No Data Transfer Between Systems
You cannot transfer data from one system to another using an OST file. Data transfer can happen only when you convert an OST file to a PST or any other email client file format like MBOX.
So, from the above section till now we have got all the information about the OST file. But we don't know the composition yet. So, you do not need to worry much. Now, in the coming part, we are going to tell you the most reliable and profitable solution. So, let's complete this task using it.
Tip: If you have a large OST file that is causing corruption or other errors then you should use this OST Splitter tool. This tool has been developed by senior IT experts which is beneficial for both tech and non-tech users. Through this tool, users can reduce oversized OST files into smaller files in just a few clicks. Besides, the user can also cut the file according to Date, Size, Year, Folder, Email ID, and Category.
Open OST File Without Outlook – Hassle-Free Solution
Now there is no manual solution to open OST files without using Outlook. So, in this case, you should use this OST File Viewer. This utility has been tested by great IT experts. Which is used by any Outlook user whether technical or non-technical. Apart from this, by using this tool, you can easily scan, view & analyze OST Files without Microsoft Outlook. Moreover, it gives the best option to read OST files without Outlook along with attachments.
Stepwise Guide to View OST File
Download and run this tool on your system to start the process.
Then, choose the "Add Files" option to add an OST file in the software panel.
After that, select "Quick or Advanced Scan Modes" according to your needs.
Now, the utility loads the OST data items. choose the "Item Which You Want to View" to open OST file without Outlook.
Finally, you can also switch the view from "Horizontal View to Vertical View".
Best Features of Software
Examine and View Outlook OST Files and Attachments
View and examine orphan, normal, password-protected, encrypted Outlook OST files,
As well as corrupted OST files with deleted data items.
Dual OST File Scanning Modes: Advance Scan and Quick Scan
View an OST file without installing Exchange Server 2019, 2016, 2013, or earlier.
Examine OST files without installing Outlook 2021, 2019, 2016, or earlier versions.
Note: If while viewing the OST file, the file has become corrupt or damaged, then you should use this OST Recovery tool in this situation. This software is quite beneficial and reliable which completely fixes the corruption issues of OST files in just a few clicks.
Time to Wind-up
In this technical blog, we have told you a great way to Open OST File Without Outlook. Along with this, we have also described all the information related to the OST file. Now, there is no such solution here, with the help of which you can open and view the file without using Outlook, for this you will need a third-party tool, which we have mentioned above.
FAQs: Everything You Need to Know
Q 1: Can I Use a Manual Approach to Open an OST File Without Outlook?
Ans: No, there is no manual online option to view and open OST files without Outlook. Users can try an automated method to read and open OST files.
Q 2: How to Most Effectively Open an OST File Without Outlook?
The greatest and most reliable programs to open OST files with the Outlook program on your Windows operating system are listed on this page. With the help of this utility, users can browse and read OST files of any size.
Q 3: Which Applications Use the OST File?
When users are not connected to the server, MS Outlook uses this type of file as a replica of mailbox contents on the server to open OST file without Outlook.