Troubleshoot Access Database Error 35012 With Quick Manual Tips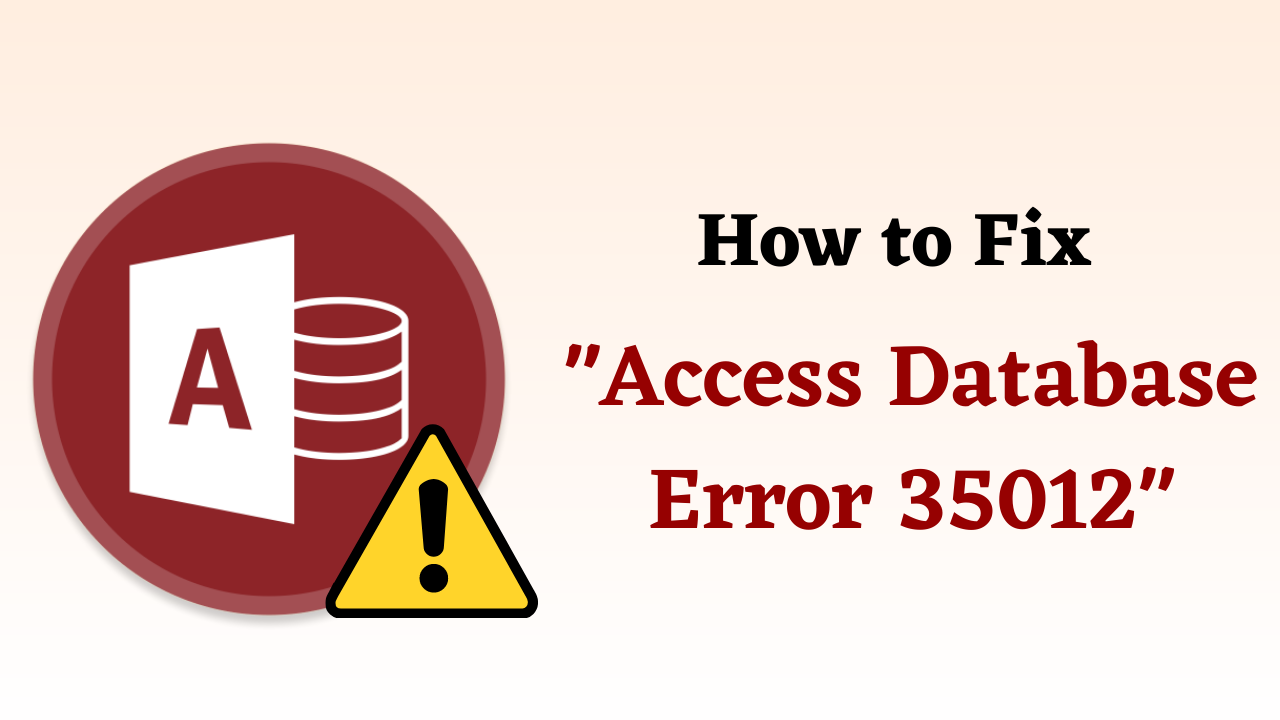 In Overview: MS Access is an information management tool that helps users effectively store and organize their sensitive and confidential data for easy reference, reporting, and analysis. It allows users to perform data analysis through complex queries. With the help of MS access, multiple users can access the data at the same time. It also enables to do frequent mass-update operations. Despite being a reliable and user-friendly application, it is prone to damage and corruption. Then, read this article to fix Microsoft Access Database Error 35012. So, let us start the guide.
There are many reasons for corruption in the Access database such as virus infection, application error, hardware problem, operating system malfunction, etc. These issues can result in the loss of vital data stored in the Access database and display an unexpected error message 35012. Thus, to resolve this error message, you have to know how to fix MS Access server error 35012. With the help of this article, you will know the cause of this error and then, you can resolve the MS Access error 35012.
Access Database Error 35012 – Causes
The MS access error 35012 arises because of corruption in the Access server. When any database content has some damage or corrupt forms or reports and users are trying to import that content. Then, due to these corrupt forms or reports, it is not possible to import the database items from the previous version to the current version.
This would prevent users from accessing the valuable components of the database. So, to overcome this problem, one can use an updated backup to restore the database. If a backup is unavailable then users can follow other methods to fix MS Access server error 35012.
So, from this part till now we have gone through all those things which will help to solve an error for us. But we don't know the solution yet. So, you have nothing to worry about, now let's move to the below section and know all the possible solutions.
Fix MS Access Database Error 35012 – Manually
The most relevant and easy method to fix the unexpected MS Access error code 35012 is to use an updated copy of the backup file. It is an instant solution to restore the database. To recover the corrupted database of the Access file, you have to place the corruption-free backup copy of the database into the new database file. But this method fails when you don't have a backup copy of the Access database. In this situation, you can go for the next solution in which error 97 unexpected error 35012 can be fixed with the help of the Access database utility.
Resolve Access Error 35012 using Access Database Utility
There are following steps are mentioned below which can fix the MS Access database error code 35012:
First, open the Access Database and click on Database Tools followed by Compact and Repair Database. This utility works even when you are unable to open the Access Database.
After that, import the damaged database objects as a hit with MS Access 97 unexpected error 35012. For doing this, follow these steps:
First of all, create a New Access Database
Then, click on the File menu >> Get External data and then select the Import option
Now, import all items of the corrupted Access Database to the newly created Database
Finally, the database may or may not get imported, it depends upon the level of corruption.
Here all the manual steps end. Now if you have not been able to fix this error even after following these steps, then go to the below section and try the reliable solution mentioned in it.
Fix Access Database Error 35012 – Alternate Method
When the above-mentioned methods are not able to fix error code 35012of MS Access. Then, in this case, the most recommended solution to troubleshoot Access database items is Revove Access Database Recovery software. This software not only fixes the corrupt items of the Access server but, also fixes the MS Access unexpected error 35012.
Moreover, this MDB Repair program provides a complete solution to rapidly resolve corruption problems with Access MDB and ACCDB database files. It has the capability to fix database corruption caused due to hardware failure, trojan infection, system failure, incompatible database design, jet engine error, and other issues.
Working Steps of this Utility
First, Download and Install the Software on your local system to begin the process.
Then, hit on the "Browse" button to select "Corrupted Access Database File".
Now, click on "Open" for recovery.
After that, click on "Recover" to restore the selected file.
Finally, preview recovered elements and click "Export" to save repaired data in desired formats.
The Concluding Words
As we know, accessing a database is very important and indispensable. But, sometimes the Access database can be corrupted by some unexpected errors. Due to this these become inaccessible and show an error code 35012. Therefore, in this blog, two manual and one alternate method are given on how to Access Database Error 35012. keeping the trust in reliable software is the best option to ensure that the job is done smoothly and within less time.