How to Convert Outlook MSG to PDF – Know Here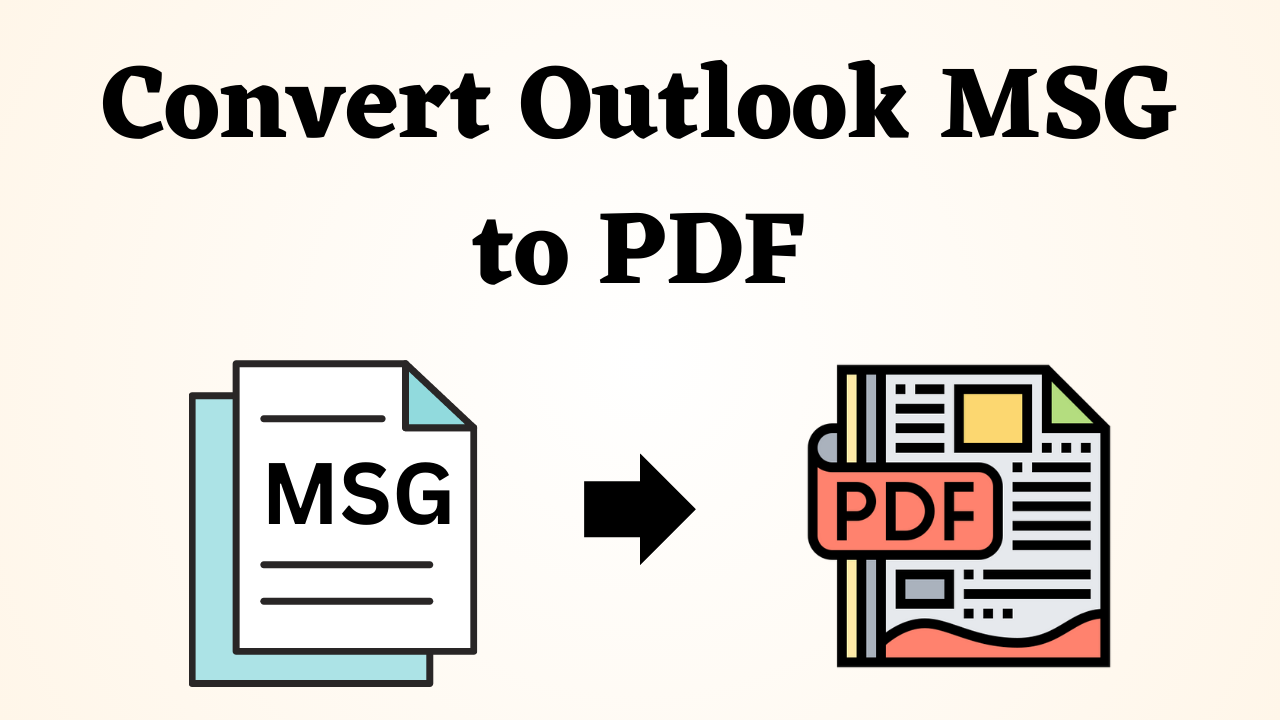 In Abstract:  We all know how technology is advancing day by day. Similarly, email communication is playing an important role in our personal and professional life. As such, many organizations use Microsoft Outlook as their primary email client. It often becomes necessary to convert Outlook message file mash to PDF format for various reasons. Whether you need to store your important emails, need to share them with others somewhere, or need to ensure compatibility across different platforms, converting MSG to PDF can be a useful solution. Today in this blog post, we will give you a step-by-step guide on how to convert Outlook MSG to PDF easily so read till the end and solve the problem.
Table of Content – Easy to Find
Now, let's move to the bottom part to know some important points before solving this task. 
MSG File and PDF – Overview
MSG is a file format used by Microsoft Outlook to store information. These messages contain the sender, recipient, subject, date, and message body. They may also have one or more email fields with contact information, appointment details, and other job specifications. All properties, including those that make up the message object, are part of the Outlook MSG file. MSG files are plain ASCII text with headers, main message bodies, and hyperlinks. Outlook-generated MSG files work with programs that require MAPI which is short for Microsoft's Messaging Application Programming Interface.
On the other hand, if we talk about PDF, then PDF is a portable document format. It is a file format developed by Adobe. It is the creation, distribution, and exchange of electronic documents in a way that preserves a document's original formatting, layout, fonts, and graphics, regardless of the software, hardware, or operating system used to view it. Also, PDF provides password protection to keep the file safe in many ways.
Why Convert Outlook MSG to PDF
There are many reasons to convert MSG to PDF, so below and we have highlighted some points related to this task:
MSG files are stored in a single email message with embedded attachments. Only the Outlook application is compatible with them.
When a user has to open the MSG file without an Outlook application, the best method is to save the Outlook MSG file in an easily readable format.
PDF is the ultimate platform for sharing confidential documents, presentations, and more.
You can easily open it anywhere without an email client app, and save images, links, and much more.
Now, converting multiple msg files to pdf is one of the best ways. So after understanding all the important things from the above section, now it is time to know the solutions. So here there are two types of methods, one is manual and the other is automated. Both these methods have their own specialty. So let's go further down and know the first method, then we will teach more steps of the second.
Save MSG File to PDF Format Manually
Those users who want to complete this task manually, then follow the steps given below. But there are many limitations of this solution which we will face in the middle of the process. So we will tell you those limits after the steps:
To start the process, first select the MSG file and open it in Outlook or select an email in Outlook itself.
After this go to the section of the File menu.
Click on the option of Save As.
Now save the file in .html format at the selected location.
Then, navigate to that location, and open with MS Word by right-clicking on the .html formatted file.
Then select PDF format to save the msg file in PDF format.
Finally, all the MSG files in Outlook have been saved as PDF. 
Note – If you have a bunch of emails then you will have to follow the below steps again and again for each file conversion. And rightly it has many limitations like you need to have technical knowledge for this, as well as it is more time consuming, and if you reflow each step in your own then the chances of losing data can increase. . So to avoid this, the coming method is the direct solution for Outlook MSG file conversions.
Convert Outlook MSG to PDF – Automatically
MSG to PDF Converter is a software application that helps users to convert multiple MSG to PDF in Bulk. Users can use this application on any Windows version including 10, 8.1, 8, 7, XP, etc. This converter is an automated solution that does not require the installation of the Microsoft Outlook application to transfer MSG emails in PDF file format.
Click Here to Install this Utility:
The user does not need to have any technical background to convert the files into PDF files using this tool. It can migrate multiple MSG files into multple file format such as PST, MBOX, PDF, HTML, EML, NSF, Office 365, vCard, CSV, EMLX, TXT without facing any errors. Also, users can convert MSG files to HTML.
Save Outlook Messages in PDF – Step by Step
To start the process, launch the tool on your system.
Then, Add MSG to the software panel by navigating to the location of the MSG file.
Now, select PDF as the export file format.
Then, hit on Advanced Settings to apply the filter.
After that, browse the destination location for the resulting file.
Finally, click on Export button to convert Outlook MSG to PDF file.
Although this solution is simple and can be executed efficiently still each Outlook message file has to be converted manually. Other than this, one has to create the folder on their own before exporting emails.
Benfits of Using Tool
You can use the program to manually select which MSG files you want to convert to PDF by selecting them on the preview screen.
With the latest software releases, you can create a PDF file for each folder. Within a few steps, a single PDF file will be produced for each folder containing the batch MSG files attached.
It includes many advanced settings, such as date-range filters, name conventions, paper orientation, page margins, page sizes, headers and footers, as well as font size, color, and type options.
Additionally, it enables users to keep their folder structures intact while converting MSG files to PDF.
Conclusion
PDF is the universal file format for formal use hence, people search for how to save Outlook messages in PDF. We have provided the solutions to Convert Outlook MSG to PDF file format with an attachment. MSG file for bulk conversion choose the direct solution provided above.
Frequently Asked Questions: Your Ultimate Guide

Q 1: How Can I Access MSG Files?

Ans: Click Choose default program from the resolution context menu when you right-click any file with a .msg file name extension and then point to Open with. In the Open with dialog box, select Always use the specified program to open this type of file. Next, choose Outlook (Desktop) and press OK.

Q 2: How can I Convert Outlook Email to PDF Online?

Ans: Select File Print in Outlook to display the Printer dialog. Select docHub PDF as the current printer from the Printer options menu. Configure your print parameters, such as page range and orientation, as you would for a paper printer. Select Print once everything looks good.